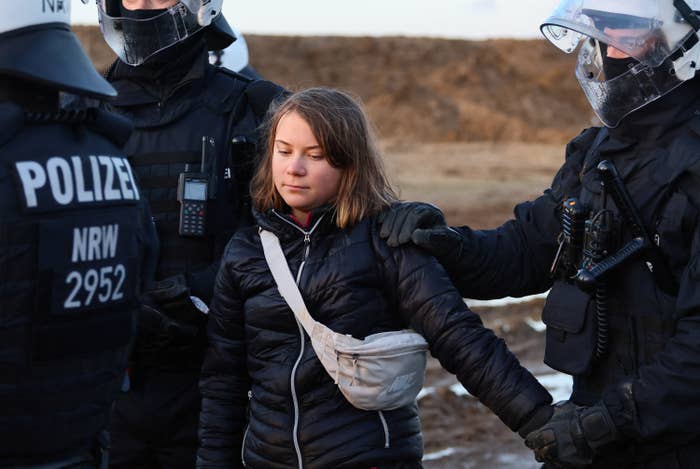 German police detained Swedish climate activist Greta Thunberg on Tuesday after she protested the demolition of a German village that would make way for a coal mine expansion in Western Germany, according to Reuters.
Thunberg was photographed getting carried away by German police officers as she joined thousands of protesters demonstrating against the expansion of a coal mine owned by the European energy company RWE.
Climate activists have argued that expanding the coal mine will contribute to an increase in overall greenhouse gas emissions and violate Germany's commitment to the 2015 Paris climate agreement.
According to the German news outlet Deutsche Welle, a group of protesters, including Thunberg, started approaching the edge of the coal mine. The outlet adds that for safety reasons, people are not permitted to step foot on the steep decline at the edge of the coal mine.
"Greta Thunberg was part of a group of activists who rushed towards the ledge," a spokesperson for Aachen police told Reuters. "However, she was then stopped and carried by us with this group out of the immediate danger area to establish their identity."
On Tuesday afternoon, the spokesperson told Reuters that Thunberg, 20, and the other detained activists would be released later in the day.
"There is no reason to hold them for days. It might take hours or they will go immediately," a spokesperson for regional police in Aachen said.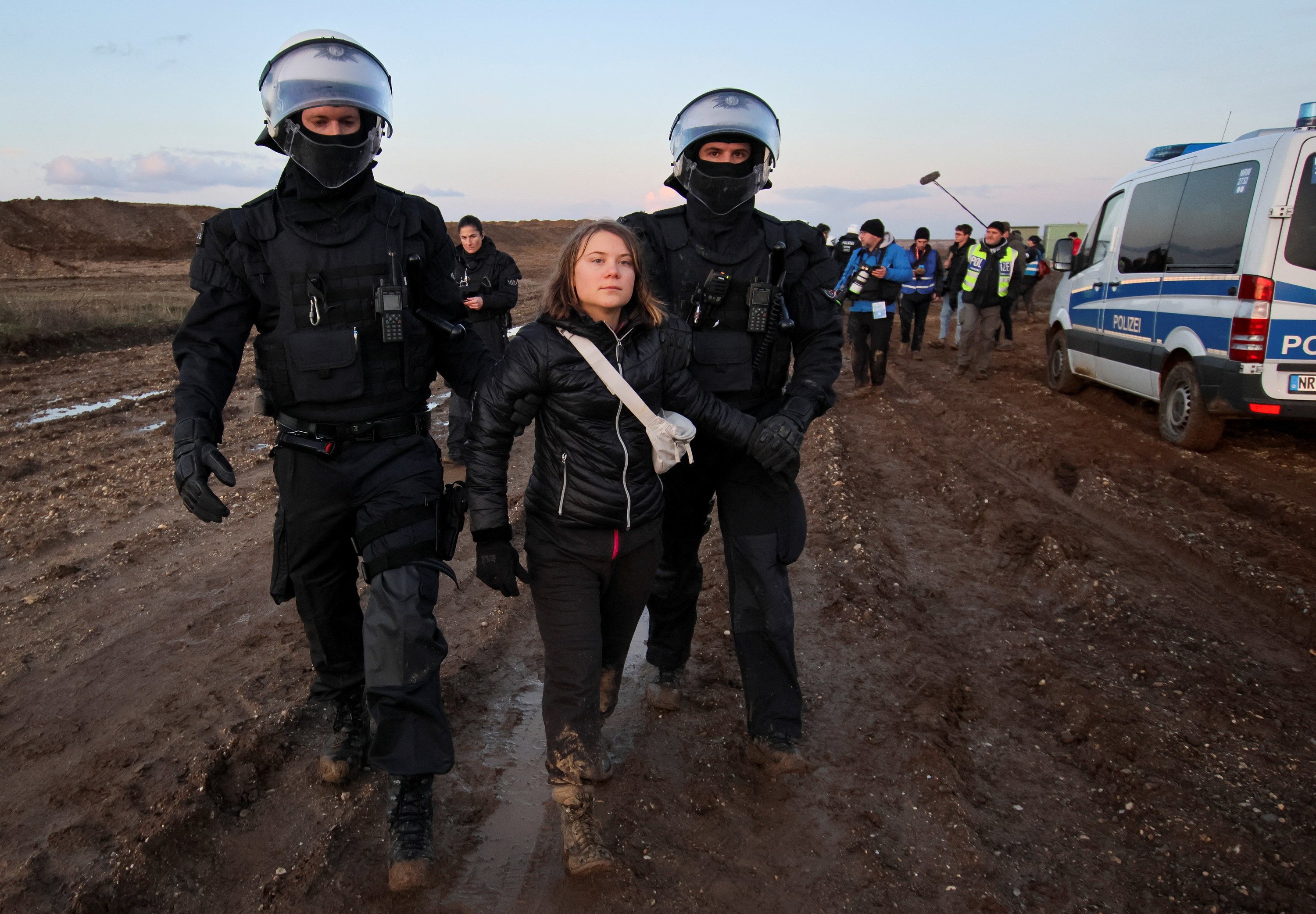 According to CNN, some protesters have occupied the German village for more than two years, occupying the abandoned homes of former residents who were evicted to make way for the mine.
This month, however, there have been increased clashes between the activists and police, CNN reports. The German police have begun removing protesters from the site, with more than 1,000 officers reportedly involved in the eviction operation.
Thunberg tweeted on Friday that she had arrived at the German village, which is the site of the coal mine expansion.
"We are currently in Lützerath, a German village threatened to be demolished for an expansion of a coal mine," she said. "People have been resisting for years. Join us here at 12 or a local protest tomorrow to demand that #LützerathBleibt !#ClimateStrike."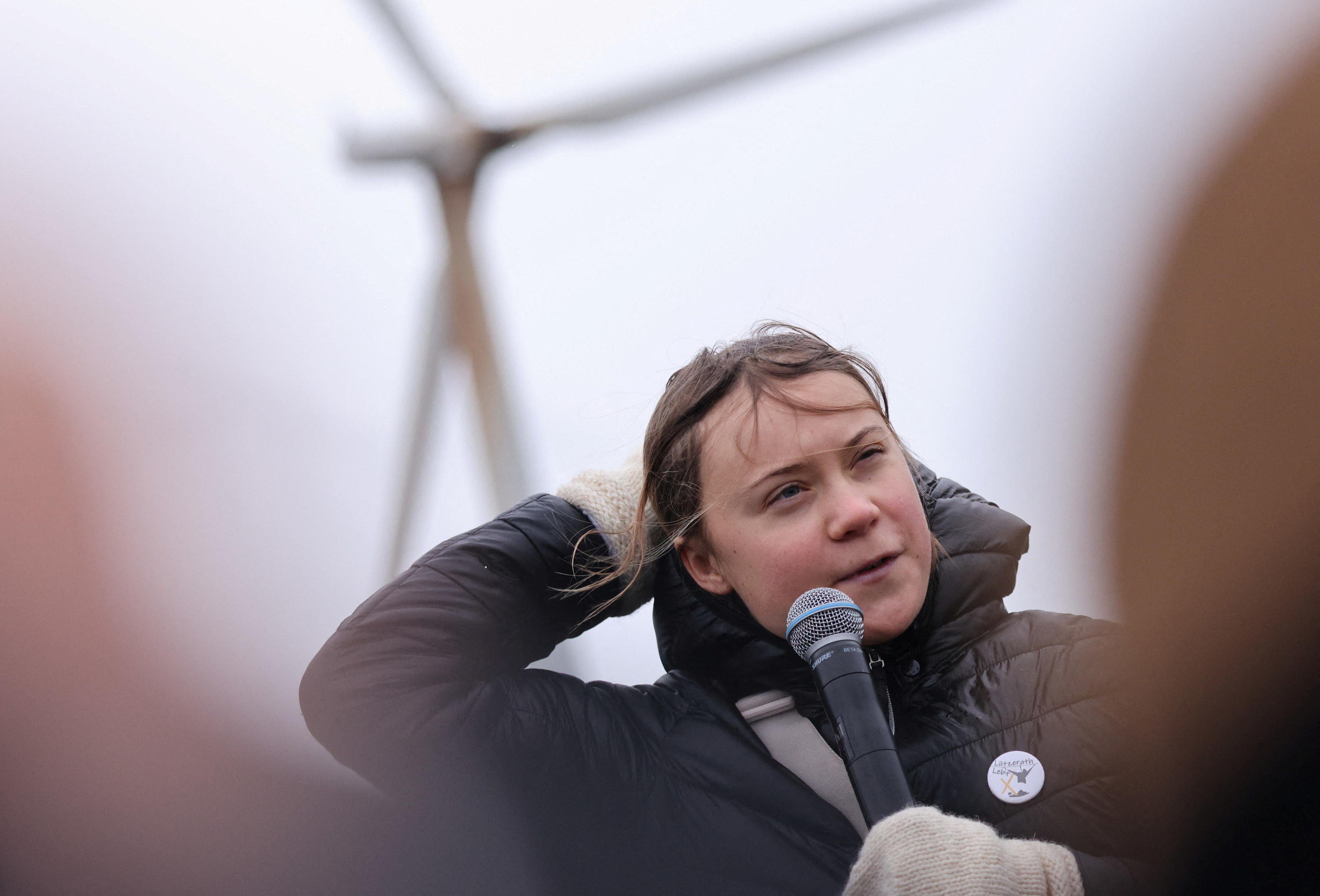 On Saturday, Thunberg addressed the crowd of around 6,000 protesters, according to Reuters, and called the expansion of the mine a "betrayal of present and future generations."
"Germany is one of the biggest polluters in the world and needs to be held accountable," she said.
RWE and Germany's Green party have both reportedly rejected the claim that the mine's expansion will increase overall emissions, according to CNN.