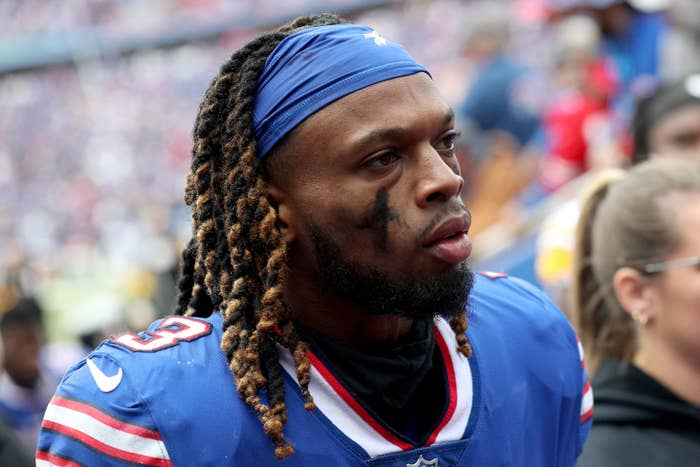 NFL Buffalo Bills player Damar Hamlin, who had a cardiac arrest during a game on Monday, is speaking again and had his breathing tube removed, his team announced on Friday.
"He continues to progress remarkably in his recovery," the Buffalo Bills said in the announcement. "His neurologic function remains intact, and he has been able to talk to his family and care team."
Hamlin, 24, collapsed on the field during the game between the Bills and the Cincinnati Bengals on Monday after a cardiac arrest. He was injured after being struck in a tackle by Bengals receiver Tee Higgins during the first quarter.
Medics performed CPR on him on the field for more than 10 minutes, and his teammates surrounded him. The game was postponed indefinitely. Hamlin was taken to the University of Cincinnati Medical Center for treatment.
On Friday morning, the Bills also announced that Hamlin had FaceTimed into the team meeting and talked with the players and coaches, and told them "love you boys."
On Thursday, doctors said that though Hamlin remains "critically ill," he was showing "remarkable improvement" and that he appeared to be "neurologically intact," adding that his "lungs continue to heal, and he is making steady progress."
"We know that it's not only that the lights are on. We know that he's home. And it appears that all the cylinders are firing within his brain, which is greatly gratifying for all of us," Dr. Timothy Pritts said, according to the Associated Press. "He still has significant progress he needs to make, but this marks a really good turning point in his ongoing care."

Hamlin regained consciousness on Wednesday night, and according to his doctors, his first question when he woke up was whether the Bills won the Monday night game.
"Yes, you won," they replied. "You won the game of life."
Though the exact cause of Hamlin's cardiac arrest has not been confirmed, the fact that he suffered a cardiac arrest just moments after a hit to the chest has led many experts to say that he may have experienced a rare event called commotio cordis.
Commotio cordis is a disruption of heart rhythm after a blow, typically from a fast-flying object, hits the chest area above the heart. Strikes to the chest during contact sports like karate and football can also trigger the event. The result is a potentially deadly arrhythmia or irregular heartbeat that leads to cardiac arrest.
It occurs most frequently in male teens playing competitive sports and is considered to be the second-leading cause of sudden death in young athletes.

One of Hamlin's physicians, Dr. William Knight, told reporters that commotio cordis is a "diagnosis of exclusion" at this time, meaning that they "have to rule out many other more common, or more deadly, or more fixable-type conditions before we can settle in on an ultimate diagnosis such as that."