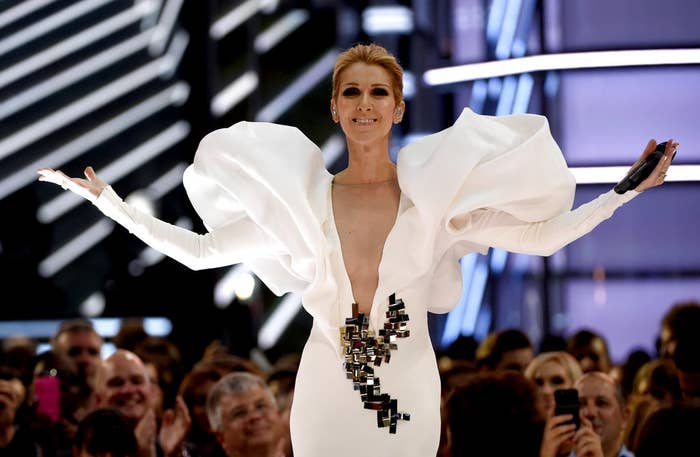 A group of Celine Dion fans protested outside Rolling Stone's office in New York on Friday after the publication excluded her from its "200 Greatest Singers of All Time" list.

Rolling Stone's list, which sparked outrage online after it was published on New Year's Day, included singers Aretha Franklin, Taylor Swift, Rosalía, Ozzy Osbourne, and Beyoncé, but excluded artists such as Dion, Andrea Bocelli, Janet Jackson, Madonna, Cher, Nat King Cole, and Judy Garland.
One Dion fan outside of the Rolling Stone office on Friday said that they were there to express themselves "in the name of Celine" because the publication "made a big mistake forgetting her name."
According to Variety, the group of protesters was made up of around 15 Dion fans who traveled more than six hours from Montreal to New York City.
Last week, Dion fans expressed their outrage online after the publication snubbed the five-time Grammy winner, who has sold more than 250 million albums worldwide throughout her four-decade career.
"Respectfully, not including Celine Dion, arguably the best vocal technician of all time in this list, is borderline treasonous," one Twitter user said.
According to Rolling Stone, the list was compiled by its staffers and key contributors, and "encompasses 100 years of pop music as an ongoing global conversation." The decisions, the introduction to the list says, were based on "originality, influence, the depth of an artist's catalog, and the breadth of their musical legacy."

"Before you start scrolling (and commenting), keep in mind that this is the Greatest Singers list, not the Greatest Voices List," the magazine added. "Talent is impressive; genius is transcendent. Sure, many of the people here were born with massive pipes, perfect pitch, and boundless range. Others have rougher, stranger, or more delicate instruments."
BuzzFeed News has reached out to Rolling Stone for comment.