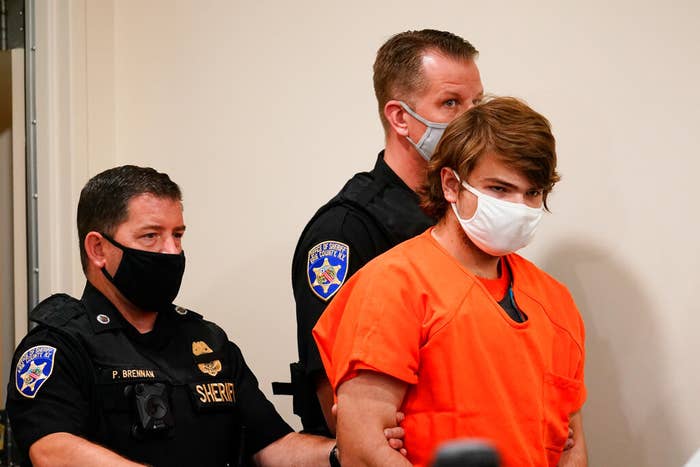 The 19-year-old white man who shot and killed 10 Black people in a racist mass shooting at a supermarket in Buffalo, New York, last May was sentenced to life in prison without the possibility of parole on Wednesday morning.
Payton Gendron appeared in court in Buffalo on Wednesday morning for his sentencing after he pleaded guilty in November to one count of a domestic act of terrorism motivated by hate, 10 counts of first-degree murder, three counts of attempted murder, and a weapons possessions charge in connection to the shooting that occurred at Tops Friendly Markets last year.
Gendron, who was 18 at the time of the attack, was the first person to be charged under a 2020 New York law against domestic terrorism motivated by hate, which carries an automatic sentence of life without parole.
"There can be no mercy for you, no understanding, no second chances," judge Susan Eagen said while delivering the sentence. "The damage you have caused is too great, and the people you have hurt are too valuable to this community. You will never see the light of day as a free man ever again."
Investigators said that on May 14, 2022, Gendron traveled more than 200 miles to a majority-Black neighborhood in Buffalo to carry out the shooting, which he livestreamed on Twitch.
After shooting 13 people, 10 of whom died, Gendron was arrested outside the supermarket. Eleven of those who were shot, including all those who died, were Black.
Prior to the shooting, prosecutors said that Gendron had posted a hate-filled screed invoking the racist "great replacement" conspiracy theory that white people such as himself were being systematically "replaced" by nonwhite people.
Before Gendron was sentenced on Wednesday morning, surviving victims and loved ones of those killed had the chance to address him and the court.
"You come to our city and decide you do not like Black people? Man, you don't know a damn thing about Black people," Barbara Massey, the sister of 72-year-old Katherine Massey, who was killed in the shooting, said on Wednesday. "We're human. We like our kids to go to a good school. We love our kids. We never go to no neighborhood and take people out."
During Massey's impact statement, a scuffle broke out in the court where an unidentified man lunged at Gendron. The 19-year-old was quickly escorted out of the courtroom.
"You don't know what we're going through!" the man shouted as he was led out of the courtroom by officers. After a short break, Gendron was brought back into the courtroom, and the emotional hearing resumed.
Zeneta Everhart, whose 20-year-old son survived the attack despite being shot, spoke in the courtroom on Wednesday morning during the impact statements part of the hearing.
"It is an understatement to say that he has survivor's guilt," Everhart said of her son, Zaire Goodman. "He's dealing with the pain that I, as a mother, cannot show."
On May 14, "the terrorist made the choice that the value of a Black human meant nothing to him," Everhart said to Gendron, who was sitting with his lawyers in the courtroom. "The disregard he has for human life and the callousness with which he carried out this attack on my son and my community not only makes him a monster but a coward."
Another survivor of the shooting, Christopher Braden, 55, who was shot in the leg, spoke and detailed how the shooting has affected him physically, such as his leg and left foot that "don't work as they should" but also how the event affected him mentally.
"Visions haunt me in my sleep every night, and most days, I cannot get those memories out of my head. Nighttime is the worst for my PTSD," Braden said.
"Loud noises never mattered to me before, but they do now," he said. "I'm always on edge and hypervigilant about my surroundings, feeling the need to be always on alert and protect myself."
During the testimonies from the victims' families, Gendron was seen taking off his glasses and crying, according to CNN.
The daughter of Andre Mackniel, one of the 10 people killed, spoke directly to Gendron. "I'll never forgive you," she said. "It wasn't my dad's time to go. Who are you to think you control that?"
"Payton, I hope you are haunted every day and every night," Michelle Spight, who lost her aunt and cousin in the shooting, said on Wednesday.
After the victim impact statements, Gendron himself decided to make some remarks in the courtroom.
"I'm very sorry for the pain I've caused the victims and families," Gendron said. "I'm very sorry for stealing the lives of your loved ones.
"I cannot express how much I regret all the decisions I made leading up to my actions on May 14," he said. "I did a terrible thing that day. I shot and killed people because they are black. Looking back now, I can't believe I did that. I believed what I read online and acted out of hate. And now I can't take it back. But I wish I could. I don't want anyone to be inspired by me by what I did."
Gendron is also facing separate federal charges — 10 counts of a hate crime resulting in death, three counts of hate crime involving bodily injury, and 13 counts of firearms offenses — which could carry the death penalty if the Justice Department decides to seek it.
Gendron pleaded not guilty to the federal charges. In a December hearing, Gendron's attorney said that he would be prepared to enter a guilty plea in federal court in exchange for a life sentence, according to the Associated Press.
Gun violence in the US is a public health crisis, according to the American Public Health Association. It is a leading cause of premature death in the country, responsible for more than 38,000 deaths annually. As of Feb. 15, more than 2,000 people have already been killed by gun violence, according to data from the Gun Violence Archive.