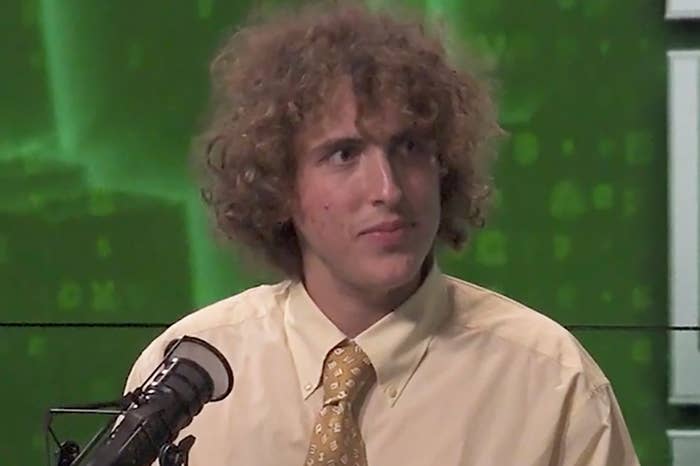 Andrew Callaghan, known for his YouTube shows All Gas No Brakes and Channel 5, has responded to the allegations of sexual misconduct that were made about him in early January.
"Andrew is devastated that he is being accused of any type of physical or mental coercion against anyone," Callaghan's legal representative said in a statement sent to BuzzFeed News on Friday. "Conversations about pressure and consent are extremely important and Andrew wants to have these conversations, so he can continue to learn and grow. While every dynamic is open to interpretation and proper communication is critical from all those involved, repeated requests for money should not be part of these conversations.
"With that, balanced communication is paramount to any relationship dynamic and Andrew vows to be better in this regard, while reminding his audience that while even one concerned partner is too many, there are always multiple sides to a story," the statement reads. "Andrew is fully committed to working with the appropriate professionals to better understand himself and ways he can grow and improve as a human being, especially with his growing platform and the vulnerabilities it brings."
The response comes as two women came forward on social media earlier this month and accused the indie filmmaker and independent journalist of sexual misconduct.
The allegations came just weeks after Callaghan released his HBO documentary titled This Place Rules, which follows him as he traveled across the US in the months leading up to the Jan. 6 attack on the Capitol.
Caroline Elise, who goes by the handle @cornbreadasserole, was the first to post a video on TikTok describing her alleged experience with Callaghan.
In the video, which was seen by BuzzFeed News before the account became private, Elise says that Callaghan needed somewhere to stay for the night as he had a falling-out with one of his crew members, so she allowed him to stay at her place but added that she "was very clear about the fact that we are not hooking up."
Despite saying that she wouldn't sleep with him, Elise says, Callaghan got into her bed and kept pushing her until she agreed "to do things [she] wasn't proud of."
Callaghan "eventually got [her] consent because he wore me down," she says.
"Just because eventually I said OK, whatever, because I was trying to just get the whole night over with so that it could be morning so that he could leave, it doesn't discount the fact that I told him no so many times prior," Elise says in the video. "I said I'm tired, I'm not really feeling it, I came up with any excuse that I possibly could to just get him off of me, and he still found a way to coerce me into things that I didn't want to do."
Elise says that she has tried to confront him on the experience to "try to get him to take accountability for what he did," but that Callaghan's version of what happened is "skewed."
She explains that she wasn't planning on coming forward but that after Callaghan continued to gain popularity, she was forced to "relive the trauma" she endured every single day "by seeing this man as a social justice warrior, as someone who cares about human rights, get a platform."
"You shouldn't be supporting him," Elise adds.
In the statement from Callaghan's legal representative, the rep suggested that someone had potentially attempted to extort him. TMZ also reported that a "source with direct knowledge" had said that it was Elise who had asked for money from Callaghan.
Elise showed BuzzFeed News a text message that she says she sent to Callaghan on Dec. 30, 2022, where she asks him if he'd be willing to contribute to the therapy bills that she said she has accrued due to the incident.
"I never threatened him with going public about this if he didn't pay me," Elise told BuzzFeed News via text message. "It was sort of a reminder that 'hey, I'm still here and I'm still deeply affected by what happened that night. Essentially a last ditch effort for some accountability on his end. I in no way expected him to actually send me money, and when I made that TikTok I wasn't even thinking about this text. I was getting ready to lie down for a nap, and I was suddenly like 'you know what, I'm tired of being quiet about this.
"It was deeply painful seeing him receive so much praise," she continued. "Truthfully I wasn't expecting anyone to see my video, but I was at least hoping it would help one woman who has been in this situation."
After Elise's allegations began circulating online, another TikTok user, who goes by the handle @moldyfreckle, posted a series of videos on Jan. 8 also accusing Callaghan of sexual misconduct.
The user claims that she "hooked up" with Callaghan once previously and that he had "creeped" her out, adding that she thought he was "mean" and "demanding."
After that incident, the woman said that he messaged her to hang out again, but she declined. "He asked me why, and I told him why and then he invited me out to a dinner so that he could apologize," she says.
The woman showed up to the dinner and said that when she asked him whether he had something he wanted to tell her, Callaghan responded by saying, "Yeah, do you want to have sex in your car after this?"
She said she declined the offer and asked him again if there was anything else he wanted to say, to which she said he responded, "Oh yeah, sorry if I made you feel uncomfortable. Are you joking? You really don't want to have sex in your car after this?" — a question she claims he repeated "probably five more times" throughout the meal and that she continuously shut down.
After the dinner, the woman said, she offered to take him home in her car as he lived nearby but noted that she made it clear she did not want to have sex with him.
"After we got to my car, he started advancing towards me, started touching my inner thigh, and pulled me forward and started kissing my neck," she says. "He was holding me tightly." While in the car, the woman alleges that Callaghan proceeded to "put his hand down [her] pants."
"I told him to stop, I told him to get off of me multiple times," she says. "He tried to put my hand down his pants multiple times, and I was, you know, fighting against him during this," she says, adding that Callaghan responded, "you could at least suck my dick," to which she said, "no, I don't want to do that," and asked him to get out of her car.
Callaghan did not get out of her car, she said, but instead got "mad" at her for saying that but, at the same time, was also "laughing" at her and continued to try to kiss her. "I told him to get out of my car again. He wouldn't get out," she says. "He said, 'You could at least take me home.'"
The user drove a little farther and then said she decided to stop the car abruptly and told him again to get out of the vehicle. This time, she says, "He said, 'Can I at least get a kiss goodbye?'" to which she alleges she said, "'Fuck no, get the fuck out.' He left."
The woman said that she never spoke to him or saw him again.
The user could not be reached for comment.
Since the allegations began circulating online, comedian Tim Heidecker, who produced Callaghan's recent HBO documentary This Place Rules, said on his podcast Office Hours that he had "no plans" to work with Callaghan again.
"It's been a very painful week for us, a very difficult experience to process," Heidecker said in his podcast on Thursday. "Of course, we're aware of the allegations. We take them very seriously. It's been very sad and disappointing, to say the least. I just want to clarify a couple things. We have no professional relationship with Andrew at this time and have no plans going forward to have any relationship with him."
"We did produce the movie, and I feel terrible that this film now has these allegations tied to it because some very good people worked very hard on it. But it's just a movie, and I want to say we believe these women that came forward and, of course, totally condemn the type of behavior that Andrew's being accused of. I believe it's up to Andrew to address these allegations and do so openly and honestly. I really hope he does do that as soon as possible," Heidecker added.