Ralph Reed Is Helping One Gambling Interest Fight Another — Again
Vegas vs. the Internet. "It could go either way," says Jack Abramoff.
Update
Reed wrote on Twitter that neither he nor the national organization to which the state groups are affiliated or involved in the coalition.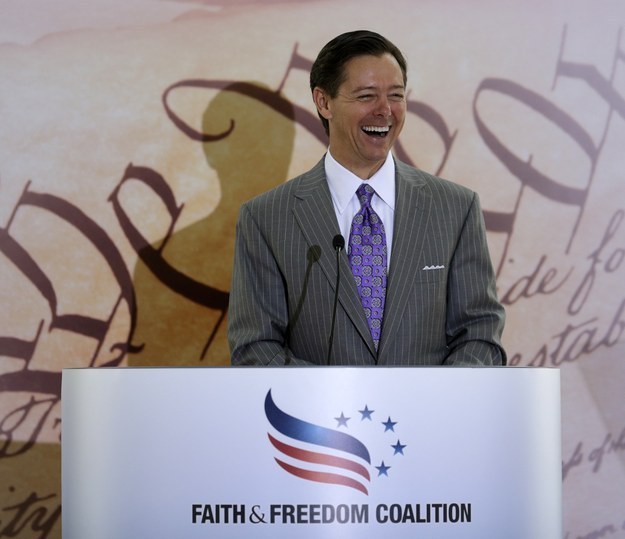 Former Christian Coalition leader Ralph Reed has stepped into another internecine war between gambling interests, with 11 state chapters of his Faith & Freedom Coalition joining a well-funded campaign by casino magnate Sheldon Adelson to block the growth of online gambling.
Lawyers for Reed told BuzzFeed that the move is "entirely consistent with Dr. Reed's prior positions with respect to the expansion of gambling in the U.S." His choice of allies is also consistent with the scandal that derailed his political career: His work with lobbyist and (now) convicted felon Jack Abramoff to mobilize Christians against new casinos. That work was paid for by Abramoff's clients, Native American tribes who operated casinos and were seeking to block new competition.
Adelson's group, the Coalition to Stop Internet Gambling, has a similar structure: Though its rhetoric its focused entirely on the evils of internet gambling, its funding is from Adelson, whose Las Vegas Sands corporation owns four casinos in the United States, four in Macau, China, and one in Singapore.
Eleven state chapters of the Faith & Freedom Coalition, a Christian political group Reed chairs, are listed as members of the Adelson-backed coalition, whose spokesman, Dan Wilson, acknowledged that they were strange bedfellows.
"These are state-based affiliates that don't normally stand with casino interests, but found common cause in order to halt Internet gambling," Wilson wrote in an email. "As far as I'm aware – none of the FFC chapters who are CSIG members received money from LVS [Las Vegas Sands]/Adelson."
The depth of the chapters' relationships to the coalition is unclear. Several of their leaders did not respond to inquiries made via email. One who did, Florida FFC Chairman Jim Kallinger, said his group is "not involved in the Coalition to Stop Internet Gambling."
The Washington Post has also reported that the group hired two former Faith and Freedom officials to back its cause. Wilson wrote that Reed isn't "personally involved" in the work.
Taking sides between dueling gambling interests brings Reed back to his professional Donnybrook. The celebrated leader of a resurgence of organized evangelical politics in the 1990s, he became a political consultant who, from 1999 to 2002, participated in a series of lucrative deals that figured at the center of a damning Senate committee investigation centered on the efforts of Reed's ally, lobbyist Jack Abramoff, to fleece his Native American clients.
"Every kind of charlatan and every type of crook has deceived and exploited America's native sons and daughters," Sen. John McCain said of Abramoff's operation at a 2004 hearing. "What sets this tale apart, what makes it truly extraordinary, is the extent and degree of the apparent exploitation and deceit."
Reed himself was never charged with a crime, and his lawyers heatedly denied in a letter to BuzzFeed that he had done anything wrong.
"Dr. Reed was never accused of any wrongdoing related to this work," wrote Reed's Virginia lawyer, David Ventker. "Indeed, the work he and his Century Strategies colleagues performed was legitimate, fairly compensated, and consistent with his opposition to gambling expansion."
But the emails published in the Indian Affairs Committee investigation derailed Reed's career and put him at the heart of Abramoff's work with Mississippi Choctaw, Louisiana Coushatta, and Texas Tigua tribes. Reed's name appears 180 times in the committee's final 2006 report, as Abramoff's key ally in rallying Christian groups on behalf of Native American casino interests. Abramoff and his allies funneled millions to Reed's firm — but also worked to conceal its origins.
One Coushatta leader, William Worfel, recalled to Senate investigators being told by the tribe's lawyer to be "real careful about a Ralph Reed person."
"It can't get out. He's Christian Coalition. It wouldn't look good if they're receiving money from a casino-operating tribe to oppose gaming. It would be kind of like hypocritical," Worfel said.
As a result, payments to Reed were funneled through Americans for Tax Reform and other groups.
Abramoff pled guilty in September 2008 to charges of conspiracy, honesty services fraud, and tax evasion. At the time, he was already serving time in prison for a fraudulent casino deal in Florida. He was released after serving nearly four years in June 2010.
Abramoff, in an email to BuzzFeed, defended the motives of his old friend.
Reed was always "opposed to the expansion of gambling," even when he worked on behalf of Abramoff's Native American casino clients. "They had different reasons (my clients not wanting competition; Ralph opposing gambling), but their short term aims vis a vis expansion by others were the same," he wrote.
When asked whether he saw "any risk" in Reed's participation in a debate pitting two groups with gambling interests against one another, Abramoff replied: "Not sure. It could go either way."
Reed denied at the time knowing that he was being paid in casino profits during the Abramoff era. However, several emails exchanged in 1999 between Reed and Abramoff suggested otherwise. In one, Reed wrote: "It would be really helpful if you could get me invoices [for services performed] as soon as possible so I can get Choctaw to get us checks ASAP." At the time, the Mississippi Choctaws hired Abramoff — who in turn solicited Reed — to help keep competitors out of neighboring Alabama.
Reed did not directly respond to requests for comment, but his lawyer promised to sue for defamation any media outlet that tarnished his reputation.
"The record is clear that Dr. Reed has actively and aggressively opposed the expansion of gambling in all venues and forums," his lawyer, Ventker, wrote. "If you intend to suggest otherwise in your reporting, or if you in any way malign Dr. Reed's character or integrity, you should understand we will actively pursue you and the publisher of any such defamatory statements to the fullest extent of the law."