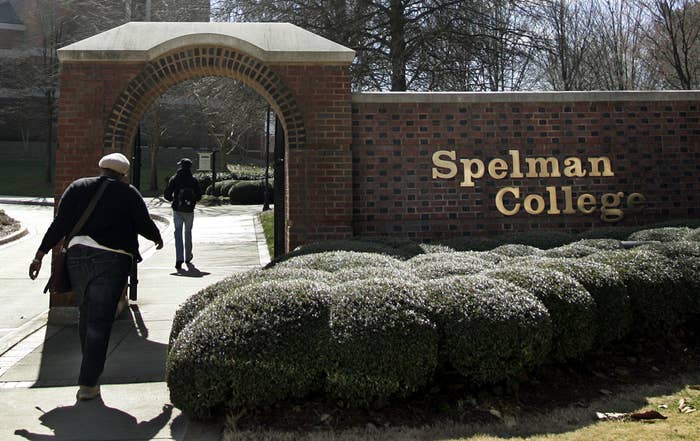 The anonymous Twitter user who posted an account of a gang rape under the handle "Raped At Spelman" earlier this week has released a followup statement regarding her experience.
The new account comes three days after the user, who identified herself as a freshman at the historically-black, women's college Spelman, posted a series of tweets stating she was gang raped by four students from Morehouse, the historically black men's college that is Spelman's unofficial brother school. The tweets sent shockwaves throughout the colleges' wider network, the Atlanta University Center Consortium (AUC), prompting two widely shared hashtags —#RapedByMorehouse and #RapedAtSpelman — and protests on both campuses on Tuesday.
Thursday's statement is the first public communication the user has made since Tuesday's events. It was released to four student organizers within the AUC, who each tweeted it individually this evening.
Da'Shaun Harrison, a Morehouse sophomore and one of the four organizers, confirmed to BuzzFeed News that the statement was provided to them directly by the student behind Raped At Spelman. "The four of us released it on her behalf as requested by her," Harrison told BuzzFeed News. "As of now, we don't have any other statements to release."
"I decided to remain anonymous because Spelman College and Morehouse College do not support or help survivors," the student wrote in the statement. She indicated that, in the wake of sharing her experience, she has become depressed and harmed herself due to personal attacks she has received on social media. "People have been more focused on knowing my name instead of fighting against the issue of sexual assault," she wrote.
The student was also critical of statements released by both college's presidents yesterday that indicated the two institutions are investigating the incident and are committed to addressing sexual violence on their campuses. "They claim to take sexual assault/violence very seriously," she wrote. "However, they do not. All the survivors in the AUC, if asked, would tell you that there has been little to no progress on their Title IX cases." Both Spelman and Morehouse are currently under federal investigation by the Department of Education for possible violations to Title IX, the federal law that prohibits sex discrimination in education.
The student reiterated that she would not be returning to Spelman next year, but stated that she has decided she will speak to the colleges' administrations after receiving encouragement from student organizers. She also insisted that her case was reported this past fall. The statement does not indicate who she reported the case to. The previous tweets under "Raped At Spelman" state that the incident was reported to Spelman, and that the college's department of public safety and dean ultimately told her to let it go, given its close relationship with Morehouse.
According to the Atlanta Journal Constitution, Spelman has not confirmed whether they are aware of the user's identity or whether she had previously filed a police report or complaint. Morehouse President John Silvanus Wilson, Jr. wrote in a statement yesterday that the tweets posted Monday night were the college's "very first indication of this incident."
In January, BuzzFeed News detailed the experiences of two Spelman students assaulted by Morehouse students who encountered obstacles reporting sexual assaults to authorities on both campuses. In the wake of the article, both colleges announced changes to their sexual assault policies and initiatives.
"We need to treat sexual assault on campus with more urgency, commitment, and compassion," the student wrote at the end of her statement, imploring the colleges within the AUC to improve how they handle the issue. "Along with looking at my case, Spelman College, Clark Atlanta University, and Morehouse College should be looking at ALL cases and provide a safe environment for students to report."
The user also tweeted under the Raped At Spelman handle for the first time since Tuesday in order to thank campus organizers and remind followers that the issue of mishandling sexual assault reports affects all college campuses.