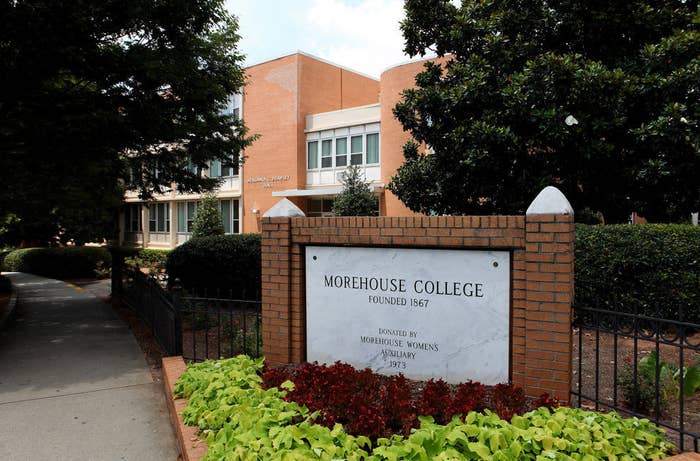 A series of tweets alleging Morehouse College students gang-raped a woman from Spelman College sparked outrage, protests, and a widely shared hashtag on Tuesday.
The tweets were posted Monday evening by an anonymous Twitter user under the handle "Raped At Spelman." She said she is a freshman. In her Twitter bio, the user said she chose to share her story anonymously because she feared retaliation from other students in the college's larger network, the Atlanta University Center Consortium.
BuzzFeed News was unable to verify the user's identity or claims, and Spelman said it is conducting a "full and thorough review." Morehouse and Spelman — elite, historically black institutions in Atlanta — are respectively men's and women's colleges and have a close but unofficial brother-sister relationship.
In the tweets, the student said she attended a party where she said she was raped by four Morehouse students in a bathroom.
She didn't say where the incident took place. She said she reported the incident to Spelman's Department of Public Safety and was sent to the hospital for a rape kit — but the college took a month to respond, questioned what the woman was wearing, and asked if she was drunk. (In the tweets, the student said she was drunk but remembers the events.) Ultimately, she said, the department encouraged her to let the incident go, given Morehouse and Spelman's close relationship.

She said Spelman's handling of the incident led her to leave the college.
The woman's experience of reporting a sexual assault between the two colleges — and officials pushing back on the idea that black women at Spelman are expected to protect black men at Morehouse — echo issues that students and faculty have attempted to address for decades. Both colleges are currently under federal investigation by the Department of Education for possible violations to Title IX, the federal law that prohibits sex discrimination in education.
In January, BuzzFeed News detailed the experiences of two Spelman students assaulted by Morehouse students who encountered obstacles reporting sexual assaults to authorities on both campuses. In the wake of the article, both colleges sent campus emails announcing changes to their sexual assault policies and initiatives.

This week's "Raped At Spelman" tweets inspired two hashtags — #RapedByMorehouse and #RapedAtSpelman — that circulated widely within the college system.
Many students, faculty, and others expressed support for the woman and called for both colleges to do more to address sexual violence and the gender and racial dynamics that often make it difficult for black women to report assaults by black men.
The account also inspired student-led protests on the campuses of both colleges on Tuesday.
"Our hearts go out to this student and I want to personally offer her our full support and assistance," Spelman President Mary Schmidt Campbell said in a statement to BuzzFeed News. "We are a family at Spelman and we will not tolerate any episode of sexual violence. No student should ever have to suffer and endure the experience she has recounted on social media. Spelman is conducting a full and thorough review of these events."
President Campbell also emailed a letter to members of the Spelman community on Wednesday evening, reiterating the college's ongoing efforts around Title IX policies and programming. The letter states that, in addition to the recent announcement that Dr. Fran'cee Brown-McClure, formerly associate dean of residential education at Stanford University, will be joining the college as its new dean of students, the college has also finished its search for a new Title IX and compliance director. The letter did not name the new director. In addition, the letter outlined the college's plans to hire additional staff to advocate for assault survivors and faculty and student-led initiatives to distribute a campus climate survey and have additional sexual assault programming next school year. Finally, the letter stated that the college is "in the midst of an in-depth review of all of Spelman's policies, practices and training materials related to all reports of sexual violence" and that these communications will make clear that "blaming the victim is unacceptable."

The Atlanta Police Department said it is not investigating any incidents of rape on Spelman's campus, though it is unclear where the incident occurred. The college's public safety department refused to confirm or deny it was investigating the rape report.

In a statement posted on the college's website yesterday, Morehouse said "When allegations that our students are involved in activities that negatively impact the safety of anyone, we pause, listen and support those impacted. At this time Morehouse is in the posture of listening and investigating any alleged misconduct that has been brought to our attention."
"The allegations are quite serious and Morehouse openly welcomes the reporting of any such allegation for a full and swift investigation," the college also said in the statement.

In addition, Morehouse spokesperson Add Seymour Jr. wrote to BuzzFeed News that the college's Title IX policy "is being updated as we speak." According to several Twitter users, the college has also launched a Campus Climate Task Force in the wake of Tuesday's conversations.
Chelsea Felin, who just completed her junior year at Spelman, told BuzzFeed News she hopes "Raped At Spelman" will continue to drive change and added that it's already a conversation among incoming freshman.
"I'm hoping this will really implement some major, major changes with how administration takes care of these cases, especially in a timely fashion," she said. "I really hope that this is continuous change and it's not just an in the moment thing or we have to wait for another survivor to come out with their story."
"I want everyone to get together like they did yesterday and stay together for years and years and years."
UPDATE
This post has been updated to include a letter from Spelman President Mary Schmidt Campbell.