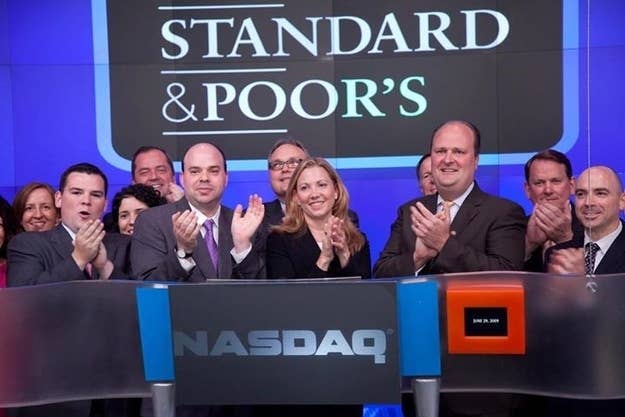 During a court hearing earlier this week, a lawyer for credit ratings agency Standards & Poor's argued that language in the firm's marketing and promotional material is little more than "puffery" that shouldn't be used as the basis for investment decisions.
Unfortunately, commercials that S&P is running on shows such as Sirius XM's "The Kudlow Report" — a radio version of CNBC host Larry Kudlow's TV show — seem to at best contradict, and at worse undermine, its legal position.
Over a sentimental score, a narrator's voice could be heard summarizing the importance of the agency's credit ratings and how S&P's research is "in-depth" and the result of exhaustive internal study.
"Our analysts conduct in-depth research, and their ratings are scrutinized before being approved by a committee process," the commercial assured Kudlow's audience, made up primarily of traders and investors. "The resulting ratings help capital markets develop and function smoothly, which means more resources for businesses to grow and create jobs. The fact is, we're proud of our work and the people behind it, and we've taken to heart the lessons learned during the financial crisis, improving and refining the methodologies behind our ratings."
Far from "puffery," the commercial essentially begs listeners to take S&P seriously.
That could pose a problem for the agency's defense against the U.S. Justice Department, which earlier this year sued S&P over the quality of ratings issued by the firm during the 2008 financial crisis. The lawsuit alleges S&P defrauded investors by letting issuers sway its research, despite S&P presenting its work as independent and objective.
Chicago-based securities lawyer Andrew Stoltmann said S&P's arguments in court this week and the message in its advertising represent the firm, which is owned by McGraw Hill Financial, trying to have it both ways.
"On one hand, they'll say, 'You can trust us — we have top-notch services and top-notch research," Stoltmann said. "Then they get in court and they argue people should never trust what we put on paper. That these things are merely opinions, and judge, will you please dismiss the case."
S&P's lawyers are asking for the case to be dismissed in part on the grounds that when the company makes high-minded assurances about its objectivity and the quality of its research, investors ought to recognize that as just good marketing.
According to S&P spokesman Edward Sweeney, the firm's mandate is to assess credit risk so that investors can make comparisons across products — not necessarily make individual investment decisions.
"Our recent advertising campaign is designed to educate people about who we are, what we do, the value we bring and the progress we've made," Sweeney said in a statement to Buzzfeed.
In a preliminary ruling about S&P's motion to dismiss the government's case, U.S. Dist. Judge David Carter summarized the case as a clear-cut dispute over the credit ratings firms like S&P issue. Carter wrote that it's a straightforward case about credit ratings — how they're created, who they serve and whether or not they were manipulated during the financial crisis.
And he was not swayed by S&P's puffery defense.
"S&P stands accused of fashioning a unified public image of trustworthiness backed by specific statements designed to induce consumers to rely on the objectivity of its ratings," Carter wrote. "S&P's statements were not a 'general, subjective claim' about the avoidance of conflicts of interest, but rather a promise that it had 'established policies and procedures to address the conflicts of interest through a combination of internal controls and disclosure.'"
Sweeney, of course, has a different view.
"S&P's position on its analytics and the governance of the ratings process in the Motion to Dismiss the DOJ's complaint are consistent with the points made in the advertising campaign, including the statement on page 6, which said, 'S&P's ratings were objective, independent and uninfluenced by conflicts of interest,'" Sweeney said.
Carter tentatively denied S&P's motion to dismiss, but scheduled a new hearing for July 29.