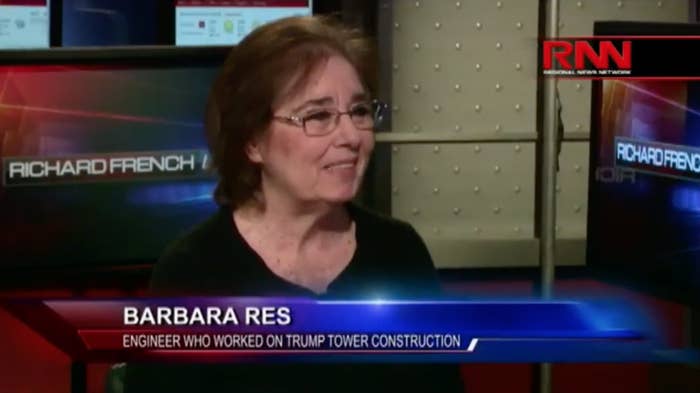 The woman who headed up the construction of Trump Tower in New York says she's supporting Hillary Clinton over Donald Trump.
Barbara Res, who worked for Trump from 1978 to 1996 and was put in charge of construction at Trump Tower in the early 1980s, said on the Irish program RT1 on Tuesday that she's all in for Clinton.
"Oh absolutely not, I'm a Hillary gal," Res said when asked if she is supporting Trump.
Trump has referenced putting Res in charge of Trump Tower's construction to counter claims of sexism, but he has not mentioned her by name. Res was one of the first women to rise to prominence in the construction industry, which she details in her autobiography, All Alone on the 68th Floor.
"It might very be," Trump against Clinton added Res. "I think it's Clinton. There's a lot of things that people have been saying about Clinton, including Bernie Sanders, which are not absolutely right and I think in time those things will go away."
Res said in the interview that Trump was a good boss to her in the 1980s but changed dramatically as he rose in fame. The builder thought he couldn't win because of his unpopularity.
"What won't go away is that the people that don't like Trump really don't like him," she said. "He's got a lot of supporters but he's got more, more, more detractors and I don't think — he's never been in politics before. He has no executive experience. I mean, his candidacy is unheard of. It's testimony to his being able to promote himself that he's gotten as far as he has."
"So I think it's a Clinton victory," Res said.