On Wednesday, people on Republican National Committee's email list received this message in support of taxi service Uber: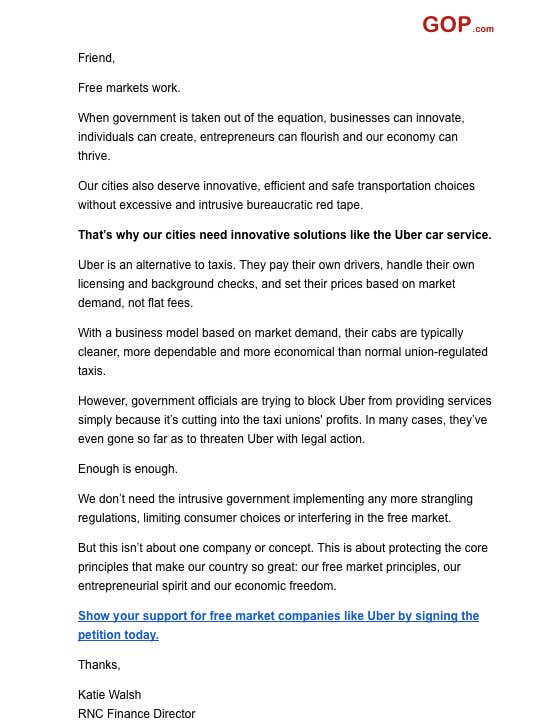 The link led to a page on the RNC's website asking people to "add my name" to a petition to support Uber: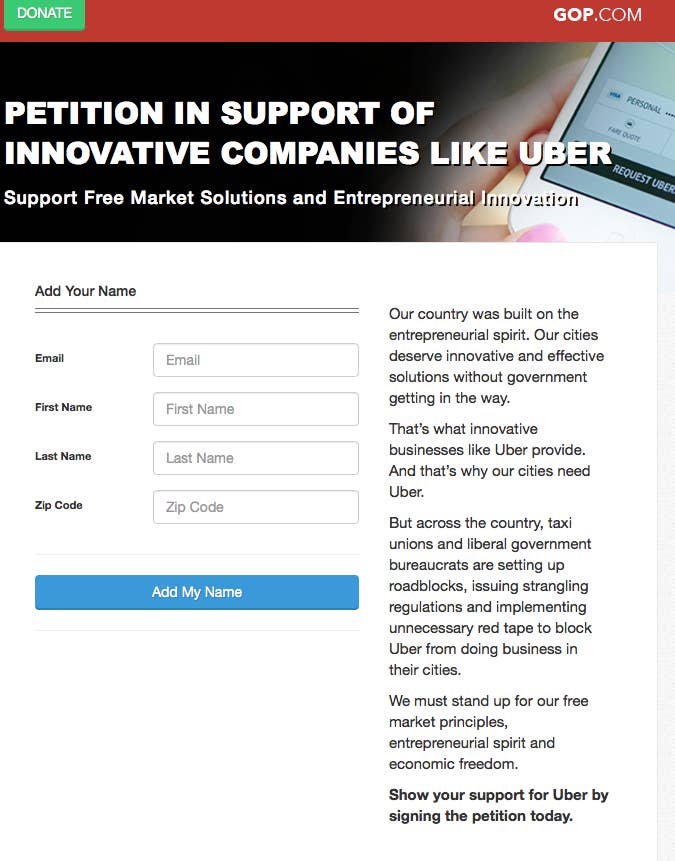 Emails and petitions like this are often times used to collect email addresses for political organizations for future fundraising emails.
The rapid success of Uber has become politicized, especially in Washington, D.C.
In one protest in D.C. in June, more than 1,000 cabbies drove through the streets and refused to pick up passengers in protest of ridesharing apps like Uber and Lyft. Taxi drivers and companies say companies like Uber are unfairly breaking the law, avoiding regulation, and taking away their business.
Because ridesharing companies like Uber often work outside the strict regulation imposed on taxi companies and drivers in many cities, Uber has been able to pull a hearty share of the market owning to its straightforward app and pricing often in competition to street hailing cabs.
In June, Uber raised $1.2 billion in funding which valued the service at $18.2 billion.
So why is the RNC backing Uber? According to RNC chairman Reince Priebus it's because of Uber's success in a low-regulation business climate.
Here's Priebus in a statement provided to BuzzFeed:
"When new companies and new technology come along, it's not the government's job to protect the old way of doing things. Government shouldn't pick winners and losers. They certainly shouldn't block innovation, which can make life easier and more affordable, just so an existing monopoly isn't threatened.

"When legislators over-regulate, it's consumers who pay the price. In some cases, they pay more for goods and services because the government increases the cost of just doing business. Uber has thrived, in part because the public has spoken out in support of Uber, but why should any company have to fight the government tooth-and-nail just to be a given a chance to compete?

"The issue is larger than Uber. How many companies, how many products, how many innovations have died prematurely because the government over-reached and interfered in the free market? Government has a role to play, but that role isn't to protect the status quo. It should be consumers, not government bureaucrats or legislators, that decide what companies get our business."
The RNC is also currently holding its summer meeting in Chicago. In Illinois, Uber is currently tussling with the state and city over regulation — so, unsurprisingly, the Republicans have also attacked Democrats there on the issue.