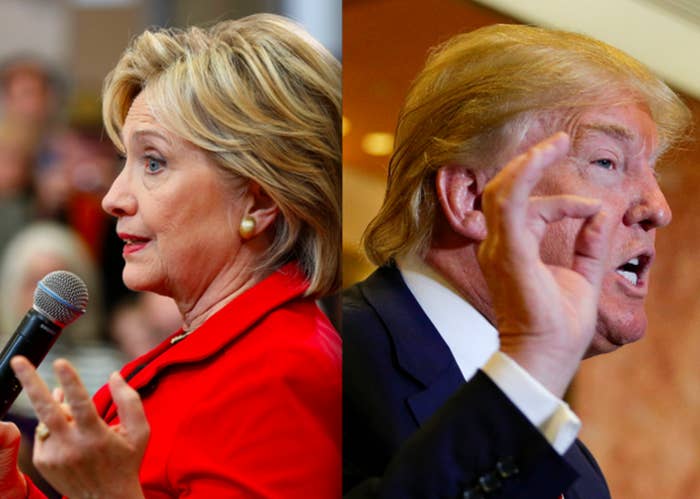 Two PACs have raised hundreds of thousands of dollars this year. They do similar calls, they have nearly identical websites, they share a treasurer, and neither has disclosed much about where the money is going.

One is pro-Trump. One is progressive.

The Democratic PAC says on its website its purpose is "spreading the Democratic message and values to the people of America." Impressively, the group has raised six figures off contributions.
But the PAC's close ties to a similar pro-Trump group — from a shared treasurer to extremely similar websites, contact information, and call formats — and the fact the PAC's listed director is a 26-year-old recent college graduate with no known political experience (who a source says was unaware of the PAC's activities) raise questions about the PAC's purpose and what it's spending money on.
Progressive Priorities PAC has raised nearly $300,000, and has $72,500 in the bank, according to Federal Election Commission filings. Almost all the group's expenditures have been paid to companies that specialize in robocalls. No money has been donated to any liberal candidates.
No known robocalls from the group have been posted online, but complaints about unsolicited calls online suggest the group attempted to concurrently raise money off the candidacies of both Bernie Sanders and Hillary Clinton during the Democratic primary. Calls seemed to use a short clip from Hillary Clinton, followed by an appeal for cash. Complaints about the calls have been repeatedly posted on telemarketing complaint sites and social media.
More oddly, the group has various ties to a pro-Donald Trump PAC, "Liberty Action Group," a group that's raised nearly $800,000. It's unclear if any money raised by Liberty Action Group has been spent elect Trump; more than half group's spending was given to a "media consultant," though the group's FEC filings provide no information as to where specifically that money went.
The progressive PAC's website is nearly identical to that of Liberty Action Group PAC. Their FEC filings are also extremely similar; both groups spend thousands and thousands of dollars at the same robocalling company, Smart Call Media. And both group's calls share a pattern: a short clip from Clinton, Trump, or Sanders and then an ask for a donation. Both groups headquarters are listed at WeWork co-working spaces just down the street from each other in Austin.
Earlier this year, one Twitter user noted the PACs shared a donation page. Today, the two groups have distinct, but nearly identical donation pages. Information that can be seen viewing the group's website page source also shows both groups have script from "Conservative Solutions PAC" in their page source. And, to opt out of message from Progressive Priorities on their privacy page, you're instructed to email Liberty Action Group.
"You may opt out of any future contacts from us at any time. You can do the following at any time by contacting us via the email address given on our website: info@thelibertyactiongroup," the page reads.
The pro-Trump group and the progressive group also share the same treasurer: Tedla Henok, who is a Virginia-based accountant. It appears those are the only two groups on FEC filings that Henok has ever done accounting work for. Henok wouldn't answer questions about if the two group's are connected last week, hanging up during an inquiry.
"I am ending this call. I am not responsible for make any statement," Henok said to BuzzFeed News.
Josiah Cammer, the 24-year-old Austin-based director on Liberty Action Group, is Facebook friends with listed director of Progressive Priorities PAC, Alexa Roth. Roth is a 26-year-old recent college graduate with no known political experience.
A source familiar with Roth's situation says she had no idea her information was being used on FEC records for a progressive PAC and was considering taking legal action to get her information removed. The source said Roth was aghast to learn she was solely listed as the PAC's director with her home address.
Roth, according to the source, was approached in the spring by her then-boyfriend Kyle Davies about having her name on records about a PAC raising money for Republicans. Roth, the source alleged, was led to believe she'd receive a monthly stipend as part of business venture working to elect Republicans. The source said was paid several hundreds dollars to have her name on records but had no contact with the PACs after it was started and received no payment afterward.
Cammer, who records indicate received more than $15,000 to run Liberty Action Group, denied on Friday knowing about the liberal PAC. "I have no connection to them," said Cammer. Asked if he'd heard of the PAC before, he said, "No, I have not." A source said Davies and Cammer were fraternity brothers in college at Texas Tech University, something backed up by social media records.
Davies' public resume lists him as working as the owner of Spruce Digital Media in Austin as an ad-buyer. He did not respond to requests for comment.
Three separate sources pointed to Davies' cousin, Matt Tunstall, who appears to be the Russian-based CEO of a company call IBid Games as director of both PACs. Tunstall's name is not listed on documents for either PAC. According to public posts on Instagram and Facebook, he knows Robert Reyes, a listed director Liberty Action Group. (By Monday, a Facebook associated with Reyes had been taken down, he had previously blocked this reporter following a request for comment.)
Reyes is also listed as the director of another PAC, American Priority PAC. Once again, the site is identical to Liberty Action Group and has the email for Liberty Action Group as the contact on the privacy page. The group also has Henok as the treasurer. It was formed in late July and has not filed any filings on expenditures or contributions yet. It is also listed as headquarter in Austin, Texas.
Tunstall declined to respond to inquiries.