Where Mitt Romney Learned How To Go Negative, And Win
Romney was able to erase a 10 point deficit in 2002 by negative campaigning, by turning voters off to his opponent.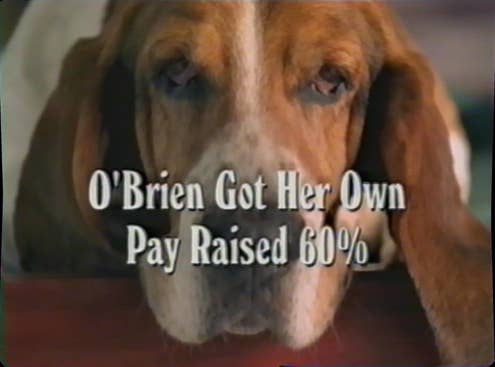 In 2002, Mitt Romney learned how to go negative — and how to win.
Trailing in the final stretch of his race with Democrat Shannon O'Brien, Romney settled on the strategy that won him this year's Republican primary, and could make him president: You don't sell the voter on Mitt Romney; you make them loathe the other candidate.
Romney had opened positive, offering upbeat biographical advertising that showcased his perfect family. But Massachusetts's voters had panned a 60-second ad called "Ann," which depicted the Ann and Mitt Romney's courtship. And his opponent caught on to the fact that Romney described himself as embarrassed for driving a "goofy-looking car" an "AMC Marlin" in the spot. The vehicle was actually a new luxury car when Romney drove it in 1965.
"The fact that Mitt Romney was embarrassed by his brand new car shows just how out of touch with regular working people he is - and always has been," a spokesman for Shannon O'Brien's campaign said in September 2002.
Voters also cast skeptical eyes on Romney's claim in the ad that he worked as night security guard while at Stanford so he could fly home to his future wife Ann, who was still in high school. The O'Brien campaign noted that even if Romney was paid twice the federal minimum wage in 1965, he would have to work 200 hours to pay for a flight from Stanford to Detroit in 1965.
"Either Mitt Romney worked as a night security guard every hour of every day, or he had some other source of income to purchase those airline tickets," said the O'Brien campaign. "Perhaps he sold the luxury car that he was so embarrassed about?"
Details intended to humanize Romney, his aides concluded, had backfired.
''I think it made [Mitt] appear to be too perfect,'' Romney's chief strategist Mike Murphy, told the Boston Globe in 2007, saying the ad would have worked had it been used in any other state. ''There's a certain cynicism in the Massachusetts electorate, and it locked into that," he said.
And so a few weeks into Romney's general election bid, his polling showed him trailing O'Brien by 10%, a margin that set off alarms with Romney's high command.
Murphy told Romney they'd chosen the wrong path.
'It's not working. My strategy is wrong, and you either ought to change the strategy dramatically as I'm going to suggest, or you ought to fire me,' he said, according to a according to a 2005 article in the Boston Globe, on Murphy, also cited in the book "The Real Romney."
"Should we fire him? Should we get somebody new?" Romney reportedly asked another adviser.
The campaign decided to use a new approach: going negative on O'Brien.
The Romney campaign had just begun to notice that O'Brien brash mannerisms were a turn off to voters. Originally Romney had noted in early debate with O'Brien in September that he only wanted two debates, saying that during 2000 Bush and Gore had only debated three times. But after their October 2 debate the Romney campaign decided to agree to more, realizing the more the people of Massachusetts saw O'Brien, the less they would like her.
The Romney campaign began running ads depicting O'Brien, as part of the culture of Beacon Hill corruption on which they pinned Massachusetts' problems.
And the Romney campaign hired a man in a chicken suit to trail O'Brien across the state, suggesting she lacked the ability to stand up to the special interests on Beacon Hill. O'Brien's husband's ties to the scandal-ridden energy company Enron were called into question, and the polls began to tighten.
Two clever ads crafted by Murphy were a hit with voters. They depicted O'Brien, who was the State Treasurer, as Duncan the napping Basset Hound, who dozed off while men stole bags on money from the state treasury. The ads focused on issues such as $7 billion in state pension fund losses in the stock market crash during O'Brien's tenure treasurer to show her image as poor manager against Romney, the brilliant business leader.
O'Brien called the ad ''as disgraceful as it is inaccurate" in 2002 comments she reiterated in 2012.
"The tactics they developed in 2002, they've raised to a high art in 2011 -- out-of-context quotes, go negative early," O'Brien told the Atlantic in January.
"It doesn't matter what the truth is, but if it's effective, do it. That's what we're seeing in this campaign," she said
The strategy paid off. O'Brien stumbles in later debates combined with Romney's negative campaigning eventually allowed Romney to cruise to nearly five point victory. It was Romney's first immersion in the dark arts of negative campaign. Romney, who ran ads in 1994 depicting himself as the victim of negative smear campaign, now triumphed by them.