Weird: Bernie Sanders Campaign Photoshops Out Organizer's "I Love Van" Shirt
Last week, the Sanders campaign posted a photo with a staffer or volunteer wearing a T-shirt made by NGP VAN, the data company at the center of December's big spat. On Tuesday, the shirt was photoshopped out!
Last week, the Sanders campaign posted a group photo of the senator with his organizing staff and volunteers in Nevada.
On Tuesday, they posted the same photo — but with one small, key difference. Look at the person all the way on the right.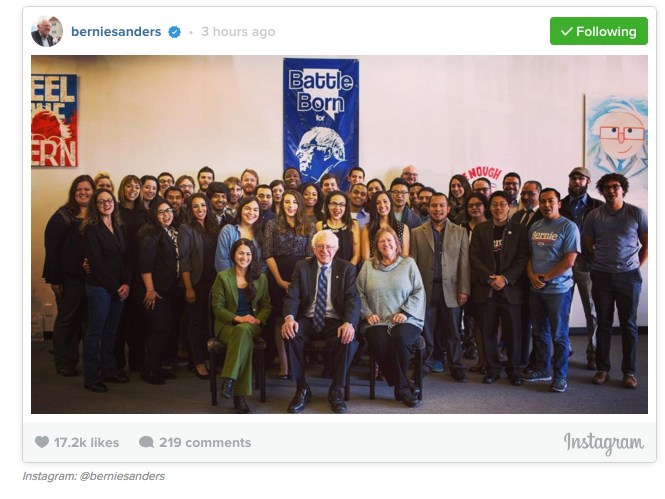 There's no logo on his T-shirt!
Look at the side-by-side pictures:

That shirt, which reads "i love van," almost definitely is this same T-shirt produced by NGP VAN, the Democratic data company.
Last month, the DNC shut off the Sanders campaign's access to the NGP VAN, after the Sanders campaign accessed Clinton campaign data during a data breach.
The NGP VAN is the Democratic data collection service that allows campaigns to identify voters and catalogue their support — perhaps the most critical tool for campaigns.
During the data breach, some Sanders campaign staffers were able to access data collected by the Clinton campaign; staffers performed searches for data such as certain types of voters that the Clinton campaign considered strong supporters, for example.
The Sanders campaign fired multiple staffers following the breach. And after the Sanders campaign threatened legal action against the DNC for breach of contract, the DNC restored access to the NGP VAN.
"It was a simple mistake made by an intern," a spokesperson told BuzzFeed News.