Watch Bernie Sanders Play Four Different Sports In This Public-Access Montage
Bern baby bern.
Bernie Sanders could very well be the most athletic person in Vermont, a review of his sports-related accolades as mayor of Burlington shows.
CCTV, the public-access channel in Burlington that hosts a wide array of old Sanders TV shows and interviews, recently released Positively Bernie, a collection of his best public-access clips.
One segment features a minute-long, four-box montage of Sanders playing baseball, hockey, tennis, and basketball.
The clear highlights are: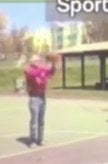 The Bernie tennis hustle...