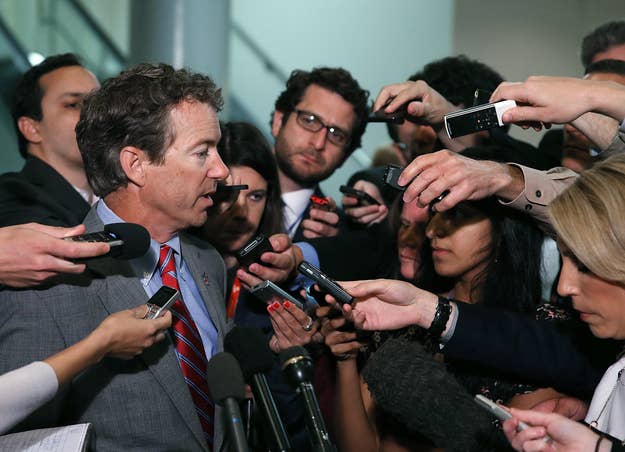 The conservative Washington D.C. newspaper The Washington Times announced Tuesday it is ending Kentucky Sen. Rand Paul's column after it was discovered that a portion of his column was plagiarized.
Sections of an op-ed Kentucky Paul wrote on mandatory minimum sentencing in the paper in September appeared nearly identical to an article by Dan Stewart of The Week that ran earlier.
Paul also delivered testimony before the Senate Judiciary Committee on Sept. 16, 2013, that included the copied sections from The Week.
"We expect our columnists to submit original work and to properly attribute material, and we appreciate that the senator and his staff have taken responsibility for an oversight in one column," Washington Times' editor John Solomon told the paper Tuesday.
Paul had written hundreds of columns for the paper.
"We also appreciate the original insights he has shared with our readers over the last few months and look forward to future contributions from Sen. Paul and any other members of Congress who take the time to help educate our readers with original thought leadership pieces," Solomon said.
Meanwhile, Bill Falk, the editor-in-chief of The Week said, "We've always known that the audience of The Week consists of smart, busy people who want to feel even smarter, including a lot of people on Capitol Hill. We'd like to thank Sen. Paul for his endorsement."
The Senator originally blamed the plagiarism charges on "hacks and haters," saying on ABC's This Week that he wished he could enter into a duel with his critics. But Paul's office admitted Tuesday that some of his work was "not clearly sourced or vetted properly." The Senator's office pledged to use a new process going forward and said they would be more careful.
Paul told CNN's Wolf Blitzer Tuesday "We've been sloppy and we're going to try to be much more precise in the future."
The publisher of Kentucky Sen. Rand Paul's 2012 book Government Bullies is also updating future printings to include attribution to a Heritage Foundation case study and a report by a Cato Institute scholar he plagiarized. The copied work ran for more than three pages.
A speech on Kentucky Sen. Rand Paul's website was updated over the weekend to include footnotes linking to Wikipedia following reports by BuzzFeed, Politico, and MSNBC's Rachel Maddow the senator had plagiarized several speeches from the internet encyclopedia.
BuzzFeed also reported Monday several transcripts of Kentucky Sen. Rand Paul's speeches have disappeared from his website.