Trump Spox Deletes Pro-Gun Control, Undocumented Immigrant Defending Twitter Account
Trump spokeswoman Hope Hicks shared an article asking people to use the world "undocumented" instead of "illegal," as well as several tweets advocating for stricter gun laws.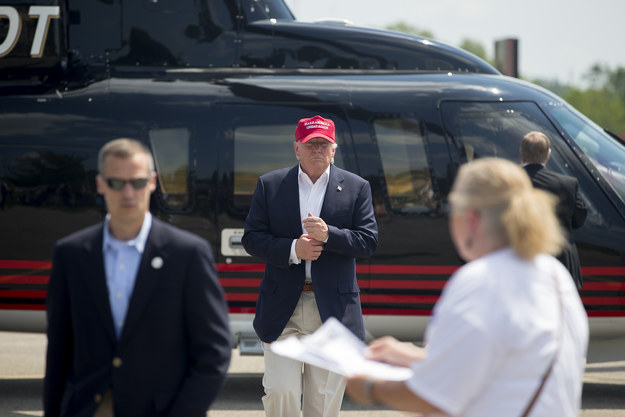 Before becoming the media's emissary to the Donald Trump presidential campaign, Hope Hicks maintained a now-deleted twitter account where she shared articles written by a prominent immigration-rights activist and tweeted support for stricter gun control laws.
Hicks, the subject of glowing profile in the Washington Post ("likable, loyal and resilient") last month, has been working with the Trump organization since 2012. After handling a portfolio of Trump accounts at the public relations firm Hiltzik Strategies, she joined the Trump organization full time last August.
The Post profile noted Hicks had "recently scrubbed her social media presence, a sign of her desire not to distract from Trump's candidacy, friends said," but failed to note elements of that presence.
In two separate tweets from 2012, Hicks linked to articles by Jose Antonio Vargas, an undocumented immigrant and journalist who is also a notable Hiltzik client. One article on Time argued that people should stop using the word "illegals" and instead use "undocumented." Hicks also shared an Upworthy article by Vargas with the auto-tweet, "Undocumented Americans pay over $11 billion in taxes every year. Where's the story on THAT @FoxNews?"
A former Hiltzik employee told BuzzFeed News the firm did a lot of work with Vargas. Matthew Hiltzik, the founder of the firm, was also executive producer of Vargas' film Undocumented.
The tweets are seemingly at odds with Trump's tone on immigration. When The Donald announced his presidential campaign in June, he said the Mexican government was sending rapists and drug dealers to United States. In July, he said undocumented Mexican immigrants were "taking our jobs, they're taking our manufacturing jobs, they're taking our money."
Vargas has publicly criticized Trump for his comments on immigration.
Hicks' account had several tweets that expressed support for gun control initiatives and President Obama after the shootings at Sandy Hook Elementary School in Newtown, Connecticut.
Hicks didn't return a comment request.
Here's a link from Ivanka Trump in April linking to Hick's since deleted Twitter account:
One tweet from Hicks linked to an article by Jose Antonio Vargas on Time saying people should use "undocumented" instead of "illegals."

Another tweet link to a Upworthy op-ed by Vargas, with Hicks tweeting "Undocumented Americans pay over $11 billion in taxes every year. Where's the story on THAT @FoxNews?"

Hicks also sent numerous tweets about gun control:

Another Hicks tweeted quoted President Obama on ending gun violence:

And retweeted a tweet that was an ad from ex-Senator Bob Kerrey in which he "took on the #NRA."

An aide at Everytown, the organization behind #DemandAPlan, said to their knowledge, they have never worked with Hicks or Hiltzik Strategies.