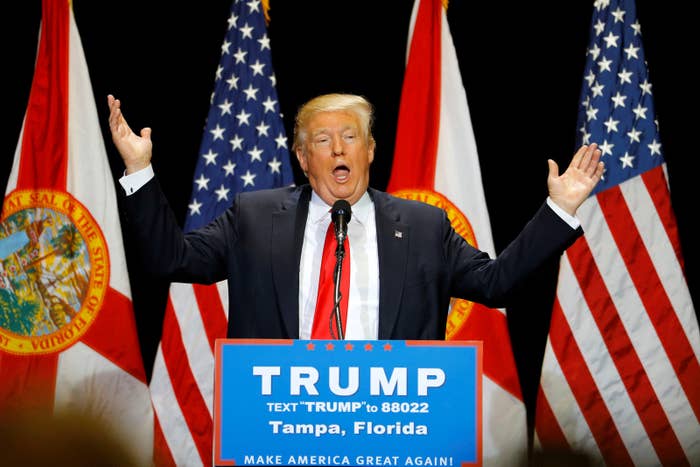 Donald Trump on Monday repeated the false claim that the Muslim community in San Bernardino, California, knew but declined to report that a couple had bombs all over their apartment floor in preparation for an attack.
Trump, appearing on the Wayne Dupree Show, said, "One of the problems we have is the people in the community, the Muslim community are not turning over the sickos. "They're not turning over the people – and they know they are. If you look at San Bernardino as an example, San Bernardino, they had bombs all over the floor of their apartment. And everybody knew it, many people knew it. They didn't turn the people over. They didn't do it."
BuzzFeed News explored Trump's claim back in March — when he repeatedly made it at his rallies and on television — and found no evidence to support it. From the report:
Reports that neighbors saw suspicious activity at the Redlands home of Syed Farook and Tashfeen Malik, the radicalized couple behind the attack, but did nothing to stop it has been repeated in conservative media since the December assault, often arguing that political correctness and fear of racial profiling allowed the attack to happen.

Those news reports all appear to stem from local media interviews with an unnamed man who said he was working in the neighborhood, and another man who was visiting the area and relaying, second-hand, a story from a neighbor. Neither mentioned "bombs" or any objects "on the floor."
In the interview on Monday, Trump said "we're going to have to do something" about Muslims not turning in "bad seeds," but did not specify what he meant.
"So we have a real problem, and it has start, and it has to stop with the Muslim community, turning in the bad seeds, turning in the bad apples. And if they don't do that, then we're gonna have to do something because we can't live like this," Trump said . "I mean, we can't have this happening."
Later, Trump said he believes there's a "great hatred" in Islam.
"We just have to do something about it," Trump said of radical Islamism. "It's so prevalent and it is so deep. It's so deeply seated. I mean, this is going on for hundreds of years. The hatred. There's a great hate there. You know they used to say, 'no, it's a religion of love.' Well, I'll tell you what, it's awfully hard to explain to the people in Orlando that that's a religion of love. There's a great hatred there beyond anything that I've ever seen. And it's so deep seated. And we have to get it stopped. It's something that we shouldn't have to live with."