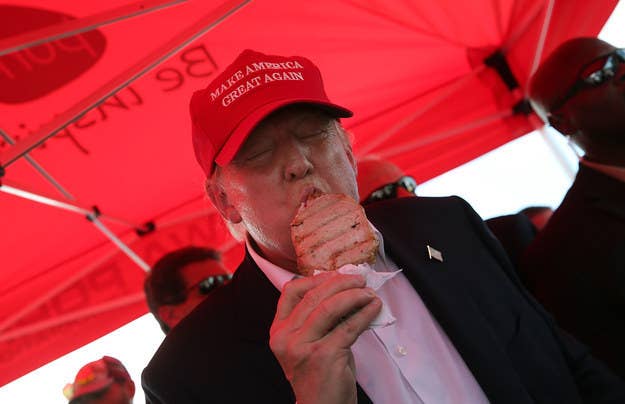 Donald Trump, who on Saturday mocked Sen. Elizabeth Warren for making unsubstantiated claims that she had Cherokee and Delaware Native American heritage, claimed in his first book that his grandfather was from Sweden — a claim later proven to be untrue.
"She's caught a little wave. Perhaps it's her Indian upbringing," Trump told the New York Times' Maureen Dowd. The Donald similarly retweeted a tweet referring to the Massachusetts senator as "Pocahontas Warren" in 2013.
Warren had claimed she heard about her Native American heritage from "family stories." The veracity of that claim became a major issue in her 2012 campaign for Senate.
In his first book, The Donald said his grandfather immigrated to the United States from Sweden. As pointed out in multiple biographies of The Donald and as a BuzzFeed News review of immigration records show, the claim isn't true.
Trump wrote about his father and grandfather in The Art of the Deal, which Trump falsely claimed was the best-selling business book of all time.
"His story is classic Horatio Alger. Fred Trump was born in New Jersey in 1905. His father, who came here from Sweden as a child, owned a moderately successful restaurant, but he was also a hard liver and a hard drinker, and he died when my father was eleven years old," Trump wrote.
According to census records obtained by BuzzFeed News, Trump's grandfather and great-grandfather were actually born in Germany.
Trump biographer Gwenda Blair wrote in her book Trump Master Apprentice that the claim was all part of a personality trait we've come to know from Trump: the exaggeration and blurring of facts to fit a story that goes with his flair.
"Apparently Donald did not care that his grandfather was not, in fact, Swedish; that he had not actually given his elementary school music teacher a black eye; or that he had paid top dollar, not below market, for his land in Atlantic City. Instead he was concerned with being engaging and entertaining," Blair writes.
In his biography of Trump, The Lost Tycoon, Henry Hurt alleges Trump made the anecdote up to deceive Jewish tenants in his buildings.
"In his first book Donald implies that his paternal ancestors were of Swedish descent. That was another big white lie presumably designed to deceive the many Jewish tenants who occupied Trump-owned apartment complexes," wrote Hurt. "Fred Trump's father, who was also named Fred Trump, was German born in 1870."
Similarly, the 1999 New York Times obituary of Fred C. Trump's death states The Donald's father made the claim for a similar reason.
"Frederick Christ (pronounced Krist) Trump was born in New York City in 1905," reads the obituary. "From World War II until the 1980's, Mr. Trump would tell friends and acquaintances that he was of Swedish origin, although both his parents were born in Germany."
"John Walter, his nephew and the family historian, explained, 'He had a lot of Jewish tenants and it wasn't a good thing to be German in those days.'"
In a 1990 Vanity Fair profile of The Donald, Trump was confronted about his family not being Swedish, as he had claimed in The Art of Deal. Trump, the story said, was "evasive."
"Actually, it was very difficult," Trump is quoted as saying. "My father was not German; my father's parents were German ... Swedish, and really sort of all over Europe ... and I was even thinking in the second edition of putting more emphasis on other places because I was getting so many letters from Sweden: Would I come over and speak to Parliament? Would I come meet with the president?"
A Trump campaign spokesperson didn't return a request for comment.
Take a look a the census records below, as well as Fred Trump's passport.
Here's the 1910 census noting Fred Trump and his father (The Donald's great-grandfather) both being born in Germany:

Here's Fred Trump's 1904 passport noting his German birth as well: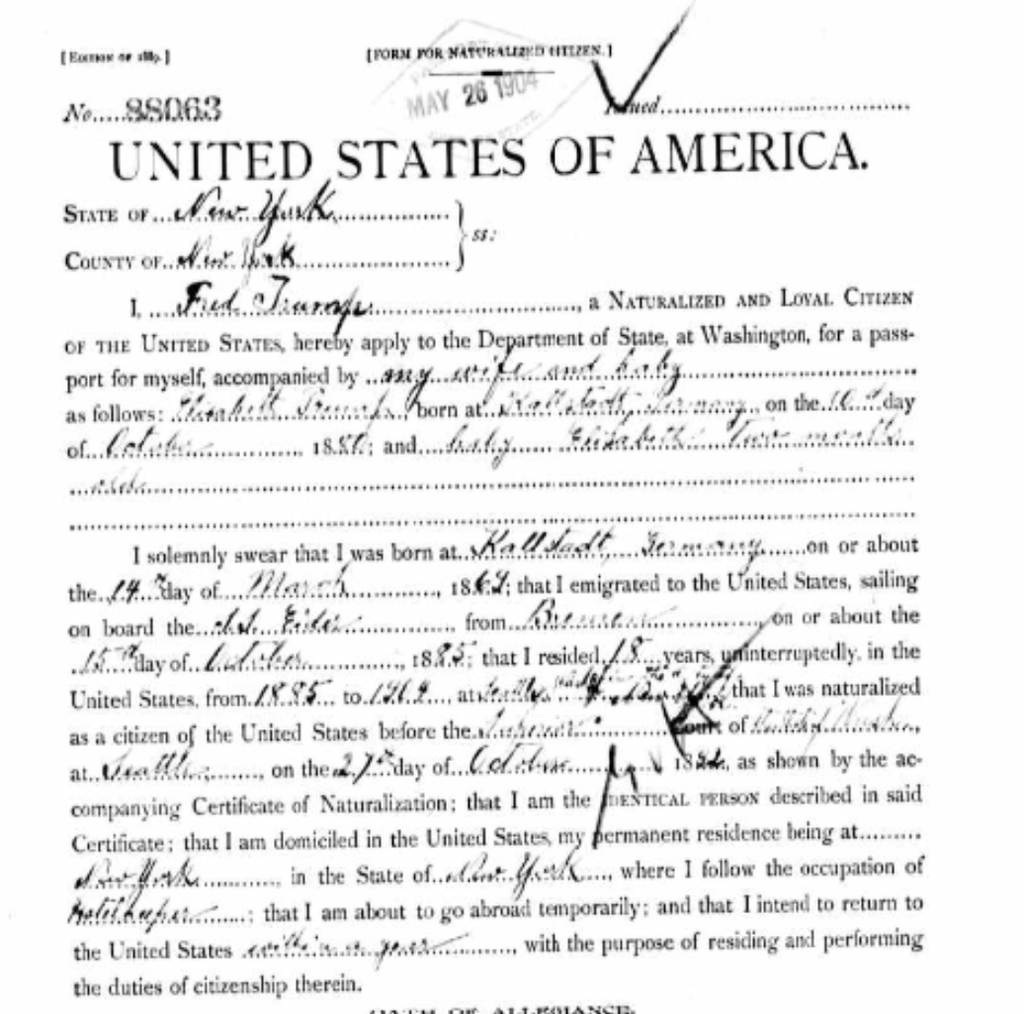 Here's the 1915 census of the state of New York saying he was German as well: