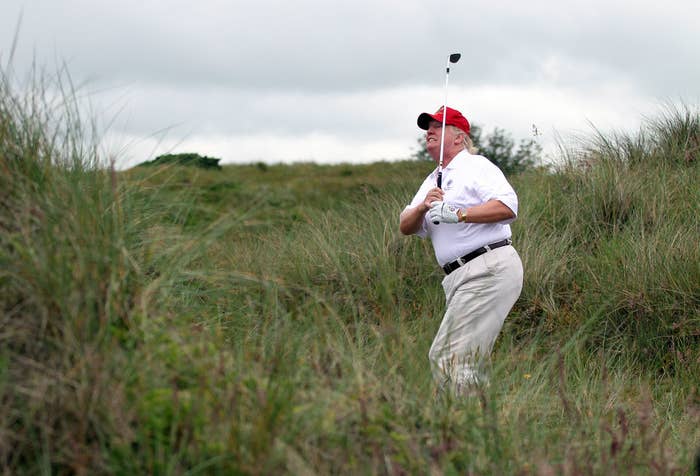 Donald Trump told a group of Jewish reporters on Wednesday that he was proud of his campaign manager Corey Lewandowski, but added that Lewandowski had been less effective while dealing with allegations he inappropriately handled a reporter.
News broke Wednesday that Florida state prosecutors would not move forward on charges that Lewandowski had committed misdemeanor battery when he placed his hands on a reporter at a Trump campaign event in March.
"Well, I will speak to Corey. I was very loyal to him," Trump told the reporters when asked how he would bring the presumption of innocence back to the judicial system, audio of which was posted by the Jewish Telegraphic Agency on Friday. "I was told by everybody to immediately fire him and everything else. And fortunately, I'm rich. And I have a lot of good equipment in ceilings for security purposes called tapers. And we had tapes of what took place. And when this young lady went out and said things, she didn't know she was being taped. It's wonderful every once in a while to have that in the ceiling, right?"
"And she said things, you know she was practically thrown to the ground and all this stuff," Trump continued. "I mean, it's almost he just lightly ran interference. I didn't even see a grab or any touch. She was touching me, you saw that. She was grabbing me. So, I thought it was disgraceful. And I thought it was disgraceful that the other two candidates said he should be immediately fired. And I guess today, at a later date, I don't know. Have you heard anything yet Corey?"
Lewandowski told Trump that he had just heard he would not be charged in connection with the incident.
"Yeah," he said. "They just dropped all the charges."
"Oh good," said Trump, to applause from the group meeting with him. "Now tell my friends from, in some cases Israel, tell my friends how loyal was Mr. Trump to you Corey."
"More than I could possibly fathom. And I was so grateful for your loyalty," replies Lewandowski.
"Oh it was great," says Trump. "I'm proud of you, Corey. He took it. It wasn't easy. He wasn't quite as effective for the last couple of months."
"Right, Corey?" Trump then asks.
"Yes, sir," he replies.
"Corey is a good guy and that was a horrible thing," Trump continues, saying had he not seen the tape, he might have fired Lewandowski.
"All of sudden when it was on tape she went, like, dead silent. So let's see what happens. I'm very happy about that Corey. That's great."
"Thank you, sir," Lewandowski said.