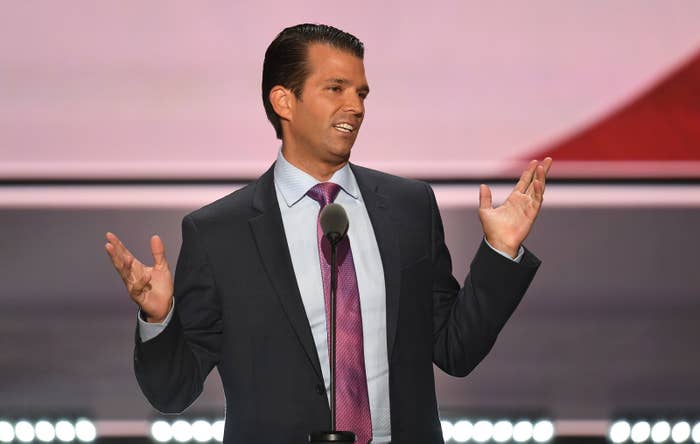 Donald Trump Jr. said one of the reasons his father is not releasing his tax returns is because there's a lot of stuff in the presidential candidate's business career and it "wouldn't make sense to open up" to public.

Trump Jr., speaking on the Doug Wright Show on KSL News Radio on Wednesday, declined to elaborate on what that was, but also said the family's tax counsel has advised them not to release their returns, citing a mysterious audit. Trump promised at various times while running and before running for president that he'd release his returns if he ran.
"I think we've been under audit for five years," Trump Jr. said. "Who knows if that's politically motivated or not, but our tax counsel, going through a 12,000-page tax return, has said they wouldn't advise us to do it. It could create all sorts of other problems. I'm going to listen to them on that."
"We've released a 110-page disclosure form," he continued. "That disclosure form is larger than most people's tax returns. When you have a business record, a business track record of my father and 40 years of it, there's a lot in a 12,000-page tax return that wouldn't make sense to open up."
The younger Trump added that the campaign wanted to keep their focus on message and avoid the distraction of the disclosure of his returns.
"What we want to do is keep the message on point," he said. "We've seen how viral that craziness goes. We want to keep on point. We want to talk about the things that really matter to Americans and do that. When the people question, 'Well, does it show that your father's not rich?' Well, I don't know. He put $65 million into a primary campaign that people said he had zero chance of winning. I don't know. He had zero chance, yet he was willing to risk $65 million cash that he's forgiven, not a debt — it's gone into a campaign to do what's right for the American people. I'd say he's been pretty successful if he can do that. I don't know a lot of people that would do that."