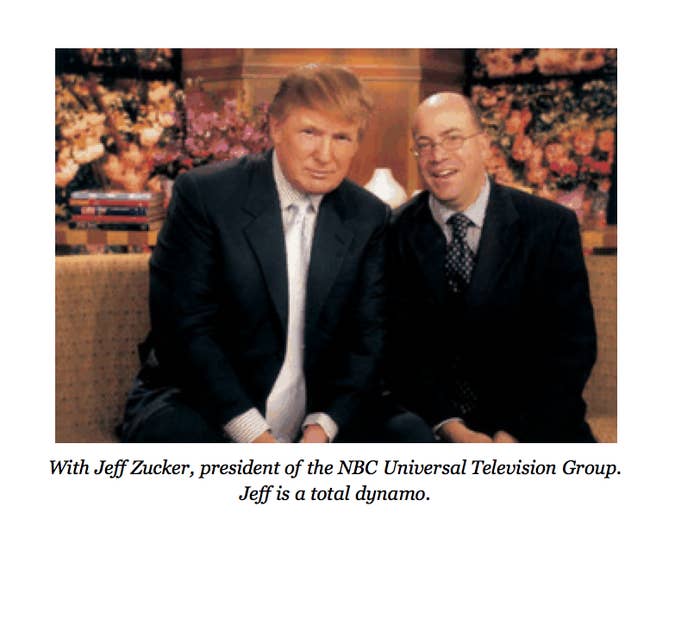 CNN president Jeff Zucker has said it wasn't his role to build up or take down a president campaign.
Zucker, asked in December if he thought Donald Trump was a demagogue, said CNN's role didn't include taking a position on that either way but was to broadcast what a candidate puts out there. The CNN chief called such views "editorializing" in a way CNN does not.
"There have been people who have asked about the amount of coverage that Trump gets," Zucker said at a talk at the Paley Center for Media when asked about his role in perpetuating Donald Trump's rise and if he thought Trump was a demagogue. "I don't think it's our role to editorialize the way you are in asking me the questions."
"I think, I think, I think that is your opinion," Zucker continued, when asked if it was editorializing or just fact to say Trump was a demagogue. "I'm not taking a point of view, I don't think it's our role to take a point of view. I think it's our role to report what he says, what he does, to fact check what he says, what he does. Really it's not our role to build up a campaign or to take down a campaign. It's our role to be skeptical of what every candidate puts out there and says. I think that's the role. It's not our role to editorialize the way I think that some of those comments are."
A review of records, specifically Trump's books and past speeches show just how close Zucker and Trump have been. Zucker, greenlit The Apprentice as head of NBC and receives a near thirty mentions in Trump's books since 2004. In Trump speeches across the years, The Donald often praised Zucker for approving the show and mentions how great the NBC chief thought it was.
Trump's 2004 book, Think Like a Billionaire includes 20 references to Zucker (often with glowing praise) and carries Trump's view of their day-to-day interactions. Trump's book even includes a picture of the two intimately posing for a photo with Trump calling Zucker a "total dynamo."
"Right before I went on the air, the brilliant head of NBC, Jeff Zucker, told me he was already receiving instant reports that the audience watching our program was going to be huge," wrote Trump. "That wasn't exactly what I needed to hear before appearing on live national television, but it turned out to be a truly exhilarating experience."
In another instance, again with Trump calling Zucker brilliant, Trump recounts Zucker making a pilgrimage to Trump Tower to ask Trump to host SNL.
"One day in late March 2004, Jeff Zucker, the brilliant president of NBC, called to make an appointment to see me at my office. I knew something big must be up for him to pay a personal visit," Trump writes. "He said, 'I'd like to see you.' So he arrived at my office and said, 'Donald, do me a favor. Host Saturday Night Live.' I like and respect Jeff a great deal, and we'd been experiencing a tremendous success with The Apprentice, so I couldn't say no."
That 2004 SNL episode featured a parody version of Zucker, played by Jimmy Fallon, groveling.
"I'm the only thing they've got on this network that's any good now," Trump says in the skit.
After introducing parody shows such as Fruits and Nuts and Law and Order, Queer Squad, an exasperated Zucker finds himself saying, "You're right, you're the only thing we have on this network. Thanks so much. I'm fired."
According to Trump, Zucker told Trump the show was great, they headed to the after party which ran until the early morning.
"After the show, I signed some photos for the crew, including one that will hang in the hallowed halls of Saturday Night Live for all time. It was a night to remember. Both Lorne Michaels and Jeff Zucker seemed pleased with the show, and I thanked them for a wonderful experience," writes Trump. "We all left for the aftershow party. For the record — and this may be a record — I got home at 6 a.m. on Sunday. Just in time to get up and read my newspapers and start a new day . . . and to top it all, the ratings turned out to be great!"
Trump's 2007 book Think Big and Kick Ass also contains some fond anecdotes involving Zucker. Zucker called Trump on his birthday, for instance.
"Then I get another call at about seven o'clock from the president of NBC, Jeff Zucker, who had the guts to go with The Apprentice in the first place," wrote Trump. "He said, 'Donald, I just wanted to wish you a very happy birthday.'"
Even Trump was a little shocked with the early morning birthday wish.
"Then my wife, Melania, rolled over and said, 'Who was that?' I said, 'Some people from NBC wishing me a happy birthday.' She said, 'Happy birthday, darling!' Can you believe that? The heads of NBC wished me a happy birthday before seven in the morning?"
Later, Trump wrote, Zucker heaped more praise on The Donald. Trump even let Zucker get away with a dig on his hair.
"Not long after, Zucker, who's now CEO of NBC Universal, spoke at a big meeting and said something I will never forget, because Friends was in its last season, and The Apprentice followed Friends. He said very, very nicely, 'Donald Trump may not have hair as good as Jennifer Aniston, but he's got great ratings.' I didn't mind that he made a crack about my hair because everyone else does."