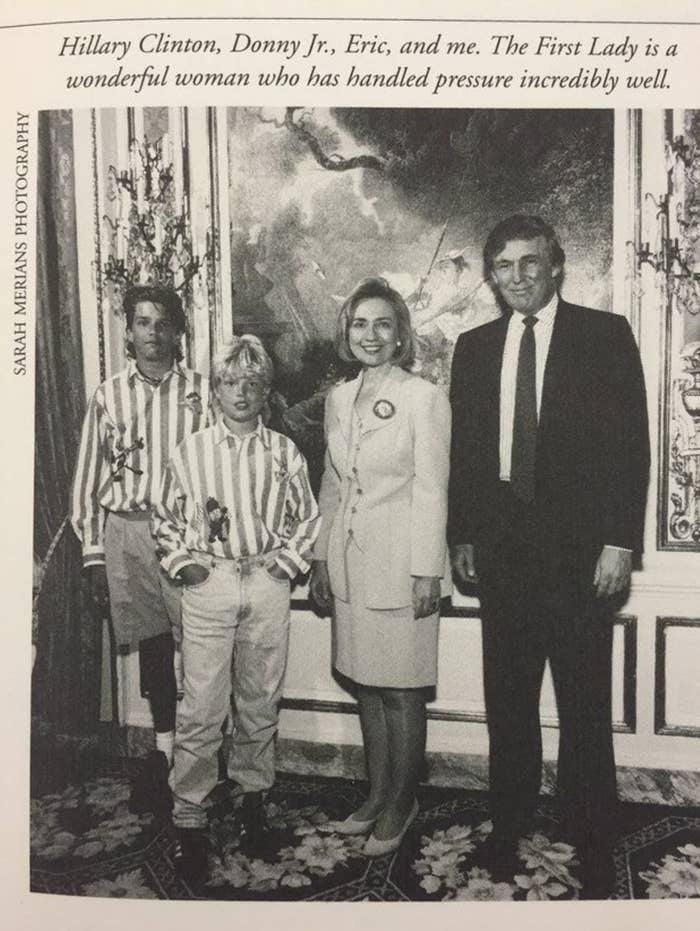 Donald Trump and his campaign staff in recent days have signaled that they plan to attack Hillary Clinton for the martial indiscretions of her husband.
Trump tweeted on Friday that Hillary Clinton was "one of the all time great enablers!" Similarly, Trump spokeswoman Katrina Pierson said the campaign was willing to bring up Monica Lewinsky.
"I think that depends on Hillary Clinton," Pierson said on MSNBC Live when asked about Lewinsky. "
"This came about because she called Donald Trump a sexist," she continued. "It boggles my mind that if a woman is criticized, all of a sudden that makes you a sexist. That is simply not the case."
A BuzzFeed News review shows Trump used to speak much differently about Bill Clinton's affair. In a series of late1999 interviews, the year Hillary Clinton began exploring a run for Senate in New York, Trump expressed sympathy for her for having endured so much.
Trump, who at the time was considering his own run for office as a Reform Party presidential candidate, was often asked about Clinton's run and how he had praised her just two years earlier in his book Art of the Comeback.
In one October interview, he called independent investigator Ken Starr "crazy" and "a total wacko" and praised Clinton as tough.
"I don't view it as that," Trump told Geraldo Rivera on CNBC in November when asked if he thought Clinton was a carpetbagger. "I actually think she's a very, very nice lady. I— met her a number of times. I met her with my son. She couldn't have been nicer. I think she's a very, very good person. I think she's— had a very tough life the last few years. I mean, what could be tougher than that? I mean, can you imagine those evenings when he's just being lambasted by this crazy Ken Starr, who is a total wacko? There's the guy. I mean, he is totally off his rocker. And can you imagine being lambasted like that all day and then saying, 'Darling, what are we having for dinner?' It's got to be pretty tough."
"And I think she's a very nice lady," said Trump earlier in the interview. "I wish she was running someplace else. I'd support her."
In another interview that year, Trump said Clinton was wonderful and expressed sadness for what Clinton had to endure in public.
"I think she's gone through terrible times," said Trump on CNN in November to Wolf Blitzer. "I think she's been through more than any woman should have to bear—, everything public. I mean, women go through this on a private basis and can't take it—. She's on the front page of every newspaper every week with what went on in Washington. I think she's a wonderful woman."
Trump, who said he'd support friend New York Mayor Rudy Giuliani over Clinton, said he thought Clinton was qualified to be senator.
"I think she is. I mean, I think frankly that if she ran from another state I think I'd support her because she's really a very terrific woman," continued Trump. "I know her. She stays in Trump Tower when she's in New York. I mean, she stays in Trump Tower. Not because of me, but because of somebody else, she has an apartment in Trump Towers, so at least she has good taste."
In a discussion with Tony Snow on Fox News Sunday in December of that year, Trump again expressed sympathy for Clinton and said he wished she ran in a different state so he could support her.
"I think Rudy has been an incredible mayor, the best we've had in New York City," said Trump. "And unfortunately in this case, we have term limits, so he can't be mayor anymore, all right? And he's running for his next step, I guess, although he hasn't announced either. He's running for his next step and his probable opponent will be Hillary Clinton, who's a very nice lady. I really think she's a lovely lady. And I think she's gone through a lot."
"Don't you have a picture of her with your family back here?" asked Snow.
"Yeah," he replied. "I mean, she was so nice to my sons. We met at the Plaza Hotel, and she was so nice to my sons, it was incredible. I mean, I really like her."
In 2000 book, Trump took it a step further, attacking Bill Clinton's detractors at length.
"I got a chuckle out of all the moralists in Congress and in the media who expressed public outrage at the president's immoral behavior," wrote Trump in The America We Deserve. "I happen to know that one U.S. senator leading the pack of attackers spent more than a few nights with his twenty-something girlfriend at a hotel I own. There's also a conservative columnist, married, who was particularly rough on Clinton in this regard. He also brought his girlfriend to my resorts for the weekend. Their hypocrisy is amazing."