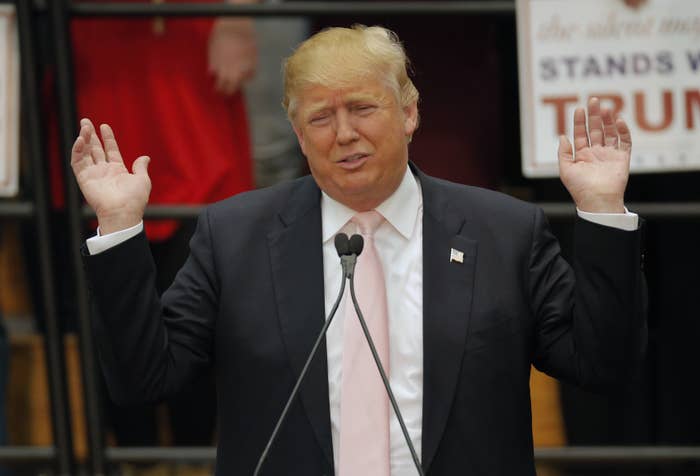 Months before the housing market began to collapse, Donald Trump wrote a blog post for his now-defunct Trump University website dismissing claims of "doom and gloom" and painting a much rosier picture of the real estate market.
Trump's opponents have attacked him in recent days for his controversial and now-defunct Trump University, a for-profit real estate education program that promised to teach its "students" the secrets and methods behind Trump's success.
The program currently faces three civil lawsuits, including one from New York Attorney General Eric T. Schneiderman, who, at the time he filed the suit, said Trump had "used his celebrity status and personally appeared in commercials making false promises to convince people to spend tens of thousands of dollars they couldn't afford for lessons they never got."
As part of the program, Trump maintained a blog as "chairman of Trump University," where he offered advice and thoughts on business and current events. While most of his posts were innocuous, one from September 2005, in which Trump dismissed "doom and gloom" real estate market predictions, proved to be particularly fraught in hindsight. While real estate prices soared throughout 2005, the market began to collapse in 2006 and reached full crisis mode by 2007.
Wrote Trump on Sept. 2, 2005:
The Housing Bubble: Doom and Gloom Don't Pay

With housing prices continuing to rise into the far reaches of the stratosphere, there's a lot of talk about a housing bubble on the brink of bursting. Scared at the possibility, industry watchers have been preaching impending doom, warning house shoppers to be wary of the real estate market.

As long as interest rates stay low and the dollar stays weak--which is an unfortunate situation, but it happens to be good for real estate--then there will be no burst in the current housing bubble. If interest rates go up precipitously and the dollar gets stronger, then there will be some reduction in housing prices.

How you react to the so-called housing bubble can be a barometer of your business personality. Are you the type of person who takes advantage of positive situations when they present themselves, riding them out as long as they last? Or do you heed every message of doom and gloom, avoiding risks that could be some remarkable opportunities?

Obviously, good things don't last forever. But in a competitive business environment, you have to be willing to take chances. You can't always live in fear. That said, when things start to look questionable, you also have to be smart enough to know when to get out.
Trump now claims he presciently spotted the housing bubble, telling National Geographic last year in a documentary he told people not to buy houses at the time because they were too expensive.
Here's a chart illustrating the housing bubble:
Trump's advice was well-received by some — at least one commenter wrote on Trump's blog that she purchased two houses because of it.
"Wow, this is one of the greatest advice I ever read. I want to buy a house but the prices are high and the interest rates too," wrote Teresa C. "So I am thinking of staying in my apartment for another year. But after 2 months, I finally decided to buy. So I got a 2 house in a lot, I will rent the back house which is a studio to help with the mortgage. As Mr. Trump says: "You can't always live in fear."