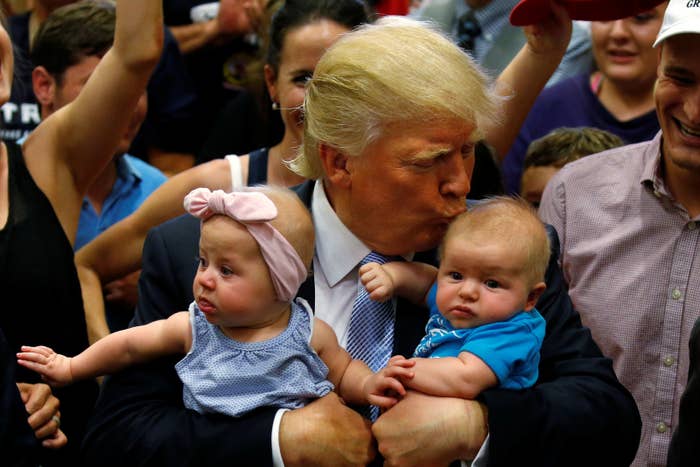 Donald Trump on Monday defended making many of his products overseas while attacking companies for doing the same thing, saying he is just following the market.
Trump made the comments on NewsRadio 1370 WSPD's Fred LeFebvre and the Morning News in the context of his attacking companies that choose to outsource.
"It's very easy, I'm just...all I'm doing is, I'm doing the market," Trump said, when asked how he would defend himself from Hillary Clinton on the issue. "But I want products to be made in our country and I'm gonna bring companies back so that we can actually buy products from our country, so that we do make televisions in the United States again. I buy thousands of televisions. So that we do make different products in the United States again.
"We have products that aren't even made here anymore, a lot of products aren't even made here anymore, because they're outsmarting us at the negotiating table, other countries."
Earlier, LeFebvre asked Trump if it was hypocritical for him to attack companies making products overseas and outsourcing when he does the same. Trump declined to directly answer the question, instead answering about products he purchases for his properties.
"A lot times, Fred, you can't buy products in this country," Trump said, citing televisions.
"They don't make them in this country, anymore, so many times. A lot of it is because various countries, China, in particular, Japan also, they manipulate their currency, they devalue their currency, and they make it impossible for our companies to compete. So when they make it impossible to compete, it's like, you go and you have to buy elsewhere. It's really makes it, a lot of businesses are being forced out of business."
Trump said he buys products from the United States when he can.
In an interview earlier on the same show, Trump's son Eric said it is impossible to make their products in the U.S. because the industry is gone and it would be too costly.
"Most of those products we don't even have anymore, but for whatever it's worth, the problem is you can't even make some of the products in the US anymore because the industry is literally gone," the younger Trump said.
"If you were to make them in the US, it's so cost prohibitive, because it's so much more expensive that literally your business would go out of business. It wouldn't work, you couldn't sustain it and that's why all the manufacturing is getting shipped overseas," he added.
Listen to the two clips below:
CORRECTION
Fred LeFebvre's name was misspelled in an earlier version of this post.