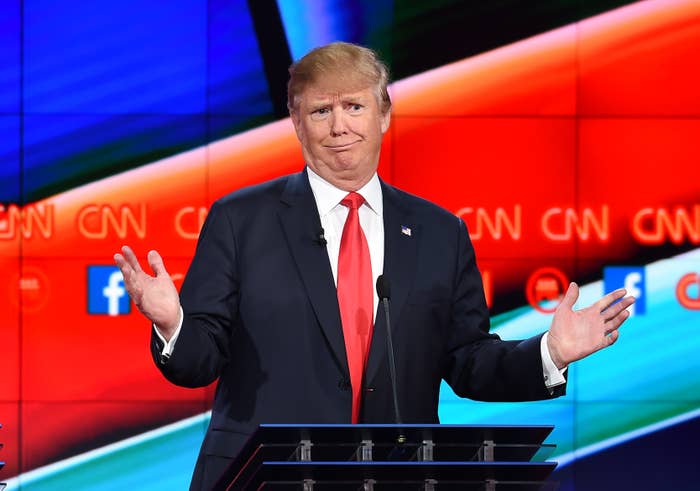 The co-author of Donald Trump's 2000 campaign book says the Republican front-runner is a "no class" person whose political beliefs are difficult to pin down.
Dave Shiflett appeared on the Alan Colmes Show on Fox News radio Wednesday to discuss Trump, for whom he wrote the 2000 book The America We Deserve.
"I kind of prefer author but I think he has his name on it," Shiflett said. "Well, I put a lot of the words down but it's his book."
Shiflett, who described Trump's politics in 2000 as "progressive" and "very liberal," noted the businessman's shift this election cycle.
"Who knows where he stands on anything, he's a thematic sort of person," Shiflett said. "President Obama was very thematic when he was a candidate, he was also about 'hope and change' and Donald is about strength."
"He's got people thinking that he's the man we need to stare down Vladimir Putin, for some reason," Shiflett continued. "I mean, I don't know who he's actually stared down. He's a real estate guy, I guess he's had to stare down some cement contractors and stuff."
When asked if he would vote for Trump, Shiflett said no.
"I'll tell you what really bugs me about him, where it really ripped it with me and Trump was the stuff he said about McCain," he said. "McCain suffered severely and I had a son who did two tours in Middle East during the last war and we had kids from here who went over there and some of them got hurt. They ain't gonna be the same."
"That's gonna come back to haunt him. For a guy who never served, to say something like that is just..," he continued.
Asked about Trump calling people losers, Shiflett said, "It's just no class, what it boils down to. What's the point of doing that? He doesn't have to do that."
In 2000, The Donald flirted with a run for president as a member of the Reform Party. Shiflett wrote The America We Deserve with Trump. The book served as a manifesto of sorts, but Trump ultimately decided not to run for the presidency that year, citing disfunction in the Reform Party.
Shiflett told Colmes that, during the writing process, the topic of terrorism was Trump's biggest passion, and noted that The Donald was a big fan of Jesse Ventura (the former wrestler and governor). He said Trump was "very careful to be "inclusive and tolerant" in writing about American diversity.
"His politics would be called progressive," he said, citing Trump's support for abortion, his past union support, a massive tax on the rich, and national health care.
The co-author noted Trump's disdain for demagogic former politician Pat Buchanan, who Trump labeled too outrageous to be president his book.
"He really didn't like Buchanan," his former writer said. In the book, Trump said that Buchanan "has been guilty of many egregious examples of intolerance. He has systematically bashed Blacks, Mexicans, and Gays."
On Trump's run this time, Shiflett said, "the fact of the matter is if Trump wasn't in the race it would be really boring" and added that he thought Trump could actually win the nomination. Shiflett said he thought that Trump ultimately might not want to spend his own money to run for president if he had to.