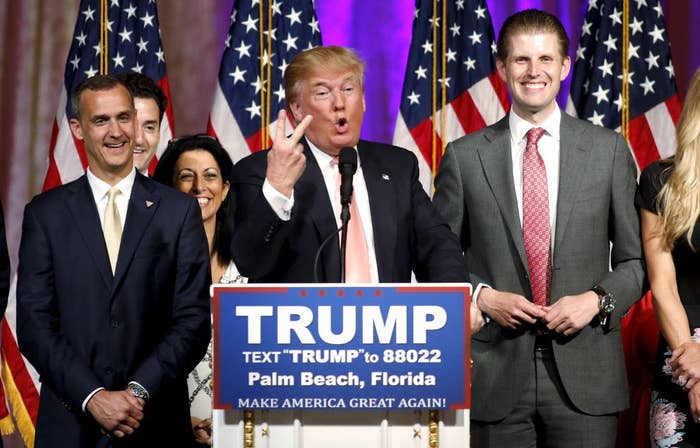 Donald Trump's campaign manager, Corey Lewandowski, said in a radio interview on Tuesday that Ted Cruz's campaign was not involved in an attack ad on Trump's wife, Melania. Lewandowski's comments contradict his own candidate's repeated claims the Cruz campaign was responsible.
Lewandowski made the comments on the John Fredericks Show, where he denied the Trump campaign had any involvement with a National Enquirer story alleging Cruz had affairs with five different women. Roger Stone, a long time Trump aide who is no longer affiliated with the campaign, was quoted in the story.
"I have no control over what Roger Stone does, doesn't work for the campaign. He's an independent individual who has no relationship with the campaign in any way, shape, or form," said Lewandowski. "For them to intimate otherwise is completely inaccurate and it's a narrative that they want to continue to perpetuate. The bottom line is Roger Stone is as much tied to this campaign as the super PAC that leaked that is tied to the Cruz campaign."
In the days leading up to the Utah caucuses, an anti-Trump super PAC released a Facebook ad featuring a nude photo of Melania Trump. Trump has blamed Ted Cruz and his campaign for the ad, despite no evidence linking the campaign to it.
"No, everybody knows he sent it out," Trump told Anderson Cooper on Tuesday, claiming Cruz broke federal election law to be involved in $300 Facebook ad from the anti-Trump super PAC Make America Awesome. " He knew the people in the super PAC. He knew — I would be willing to bet he wrote the phrase."
Lewandowski said earlier in the radio interview on Tuesday that Stone was no longer involved with the campaign, and for Cruz to claim otherwise was just like the Trump campaign saying the super PAC was coordinating with Cruz.
"To be clear, Roger Stone is someone who does not work for the campaign. He was a consultant to the campaign up until August of last year and then I've had no communication with Roger Stone until August of last year," said Lewandowski. "For the Cruz campaign to equate that Roger Stone is part of this campaign is akin to us saying the super PAC that put out the pictures of Melania Trump is part of their campaign. Now, they can deny that, and they can say that they have no communication, but the two are exactly equal."
At a CNN town hall on Tuesday, Cruz noted the only person cited in the discredited story was Stone.
"The story, on its face, quoted one person on the record: Roger Stone," Cruz said. "Roger Stone has been Donald Trump's chief political adviser. He planned and ran his presidential campaign and he's been his hatchet man -- he's spent 40 years as a hatchet man.