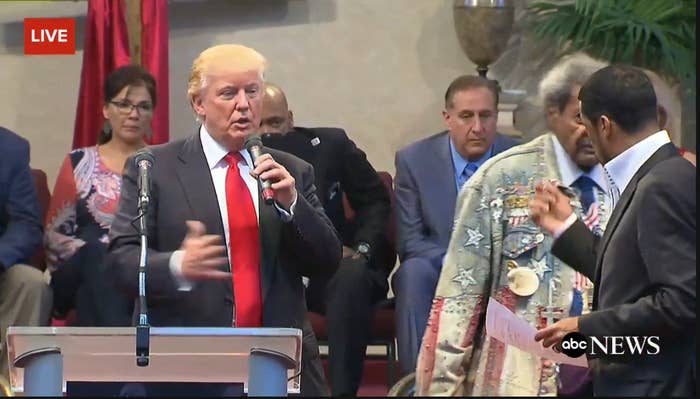 Less than a week after finally admitting President Obama was born in the United States, Donald Trump on Wednesday appeared with an Ohio-based pastor and adviser to his campaign who this year questioned Obama's faith and declined to answer in an interview if the president was American-born.
Frank Amedia is a Canfield, Ohio-based pastor who acts as a liaison for Christian policy for Trump, arranging meetings for Trump with evangelicals. Amedia sent out multiple invites through his mailing list for the event at a Ohio church and can be seen on stage in photos. He led a prayer with Trump at the end of the event.
Amedia appeared on the Alan Colmes Show in June, where he defended Trump's birtherism and questioned Obama's faith.

"I don't believe that was racist at all," Amedia said at the time. "I don't believe it was taken as racist. I think it was taken as political. I think that we're too quick to put the race card on everything, we should be careful with that."

When asked if he believed the president was born in the US, he said, "that's so far above my pay grade."
Amedia added, "Many Christians question, 'is President Obama a true Christian?' I don't know that he's attending church regularly. He doesn't quote the Bible regular. He once said out of his own month, 'my Muslim faith' and then he trounced it back. We could say that man's not a Christian, but you know what, if the man tells me he's a Christian, I'm gonna leave that between him and God."
When Colmes said Obama did not say he was a Muslim, Amedia answered, "I know, but he did say it."