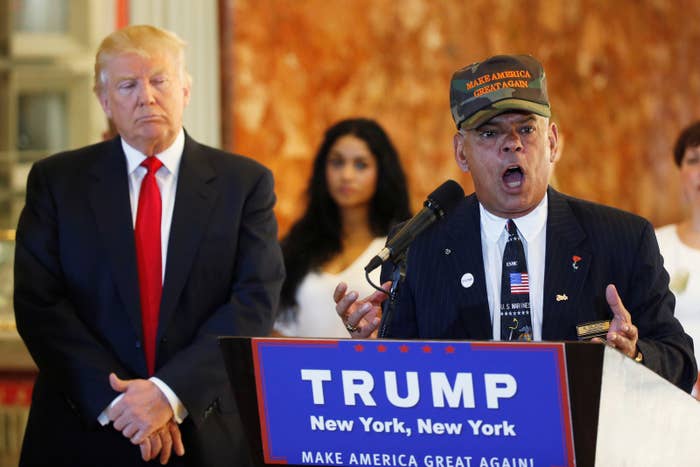 Donald Trump's adviser on veterans issues, New Hampshire state Rep. Al Baldasaro, told BuzzFeed News on Friday that he regrets the way he phrased his comment that Hillary Clinton should be shot for treason.
"I mean, I regret saying it the way I did," Baldasaro said. "It's a shame because I should have spoke out and said she's got to be found guilty. We're a country of laws—for treason. I used the word 'should be,' and the liberal media took it and ran with it."

Trump said he didn't know about about Baldasaro's remarks when asked about it on local New Hampshire TV on Thursday.
"I will tell you he's a very fine person. Nobody wants to take care of the veterans in this country, who have been treated horribly, more than Al, so that's what I know," Trump said.
"I was honest and Trump stood by me," Baldasaro continued. "He understands, I'm sure, because I don't think he's aware of what actually was said or maybe he is, I don't know. He said he wasn't, but of course I never talked to him. I talked with the Trump team about it. I was impressed. He always compliments me wherever he goes. I put 150% in New Hampshire on veterans' issues, medical issues, VA benefits."
"I spoke with Hope. I spoke with people on the Trump campaign at the convention—a senior advisor in New Hampshire," he added.
Baldasaro said he was upset the way it was perceived, saying he wasn't calling for assassination. He said he was receiving hate mail saying his wife who is being treated for cancer should die.
"My wife, who just had cancer, got cards in the mail that she should die. The disgrace that's gone over my family," he said.