Tim Kaine In 2005 Compared His Position On Abortion To George W. Bush's
"I feel like I am in exactly the same position as he is. I tell people what my heart is. I tell them I am good to my word when I take the oath."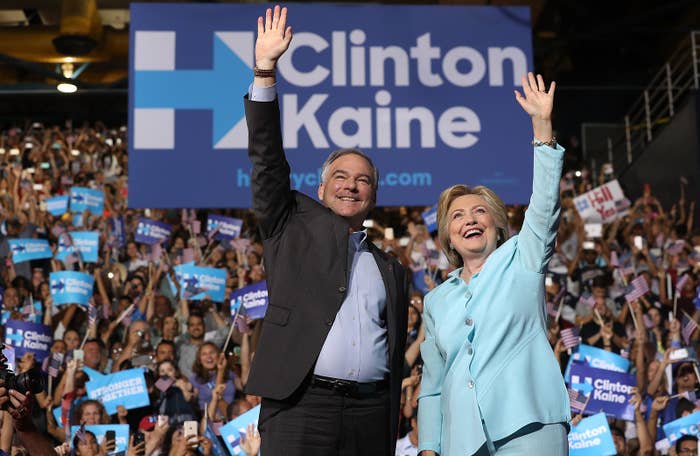 During his 2005 run for Virginia governor, Hillary Clinton's running mate Sen. Tim Kaine compared his position on abortion to that of then-President George W. Bush's.
Kaine's opponent in the race, state Attorney General Jerry Kilgore, attempted to paint Kaine as too liberal on the issue of abortion. To push back on these claims, Kaine's campaign blog cited an American Prospect article, in which Kaine compares his views on abortion to Bush's.
Kaine, whose voting record in the Senate is considered liberal, ran to the right during his 2005 race on issues like abortion, guns, religion, marriage, and fiscal issues. Kaine's position was and is that while he personally opposes abortion as a Catholic, he will uphold and enforce laws protecting abortion rights.
"Is there moral unease about [the death penalty]? Sure there is. But remember, when you take an oath, the honesty principle, I think, is the first principle," said Kaine to the Prospect. "It is the same position President Bush has often stated about abortion. He is against abortion. He says, 'The voters know my heart.' But he has not done a single thing really to overturn Roe v. Wade."

"I feel like I am in exactly the same position as he is. I tell people what my heart is. I tell them I am good to my word when I take the oath," Kaine added. "Does it pain me that there are executions and that abortion is common? Yes, it pains me. But I believe the system of government we have —which is rule of law, not of men — is the best system there is on this planet, and it is very important that the leaders who run to lead and execute the laws of the state be able to say that they will do it, and to say it honestly."
In the article, Kaine said he would support the right of women to make reproductive decisions early in the pregnancy.
"The law in Virginia right no is that the death penalty is the law of the land for the most serious crimes, and on abortion, the law of the United States is that women have the freedom to make their own reproductive decisions early in pregnancy, and I will honor those laws," he said. "If someone says, 'Well, that's wishy-washy,' I say, 'No, it's not — it's being true to my oath.'
The Clinton campaign has pointed to his Senate voting record when asked about Kaine's past comments.

During the 2005 race, NARAL's Virginia chapter said in a statement that they could not endorse Kaine because of his support for certain restrictions.

"There is no question that Republican Jerry Kilgore is an extremely anti-choice candidate who would sign a bill eliminating the right to choose in Virginia, and who might even sign legislation curtailing access to contraception for Virginians," they said in a statement.
"Tim Kaine, the Democrat, has said he would not sign such legislation, but he embraces many of the restrictions on a woman's right to choose that are opposed by NARAL Pro-Choice Virginia," it continued. "We cannot therefore offer any endorsement in this year's race for governor. Having said that, Tim Kaine has listened closely to our concerns during his campaign, while Kilgore's office did not even respond to requests for meetings on the issue. Between these two men, we see more hope for the women of Virginia in Kaine's candidacy and we are eager and willing to work with him on these important issues should he be elected."
In a statement in support of Kaine this weekend, NARAL noted they often disagreed with Kaine as governor, but praised his Senate voting record (100% with the group's scorecard).
"When he was Governor, Tim Kaine took positions we disagreed with and actively campaigned against. We're pleased that since then, his votes and public statements have been consistently in favor of trusting women to make our own decisions. And as with all of our allies, we weren't afraid to voice disagreement with him then and we will not be afraid to disagree, if needed, with him as Vice President."