The First Time Chuck Hagel Was Accused Of Being Insensitive To Jews
His first campaign.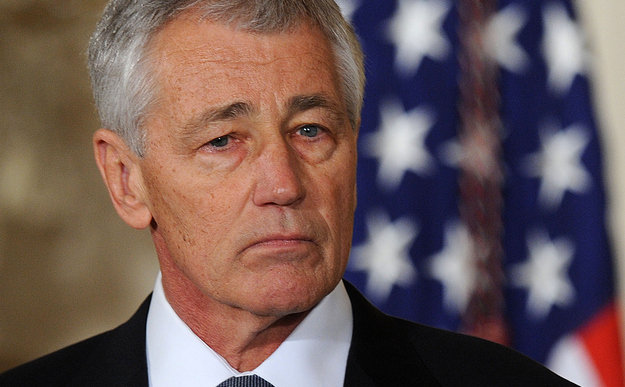 It was June 1996 and Chuck Hagel was running the first political campaign of his career. The Nebraska investment banker was new to politics, and in his bid for Senate was taking on popular Governor Ben Nelson. It was the first time Chuck Hagel would be accused of being insensitive to Jews.
Hagel was appearing before 125 people at the Lincoln Independent Business Association luncheon to outline his economic plans. The future Senator said he would reduce funding for all federal regulatory agencies by 25 percent, singling out the Environmental Protection Agency and the Occupational Safety and Health Administration.
"This is a Gestapo," Hagel said of the EPA. "We have taken regulatory agencies way, way too far."
Nelson said the reference by Hagel to federal regulators was "insensitive," "particularly to Jews." Nelson added that he butted heads with federal regulations often, but did not resort to name-calling.
The Omaha Regional director of the Anti-Defamation League called it an "inappropriate word."
"Not only is it inappropriate for a Senate candidate to compare our public servants to coldblooded killers, but it is deeply offensive to hear Hagel speak about one of the darkest periods in history so flippantly," said one Nebraska resident in a letter to the editor published by the Omaha World Herald.
"This type of invective has no place in any constructive effort to improve government," said the head of the Nebraska AFL-CIO Gordon McDonald.
Hagel "did not waste any time showing his true colors," said Leon Tatum, the President of Nebraska Postal.
When a member of Hagel's campaign steering committee (who later was disavowed from the campaign) said "who needs the Jews or the Arabs" in response to question about perceived insensitivity in local Republican Party platform, the Democratic Senatorial Campaign Committee commented "there seems to be a rather severe insensitivity in the Hagel campaign."
The Omaha World Herald defended Nelson's comments in an editorial.
Governor Nelson has chosen to lecture Chuck Hagel, his opponent for a U.S. Senate seat, about politically correct speech. Nelson should find something of more substance to talk about.

Hagel said the other day that the federal government could save money by eliminating four Cabinet agencies. He added that funding ought to be reduced for the Environmental Protection Agency and the Occupational Safety and Health Administration (OSHA). Hagel said OSHA "is a gestapo.
We have taken regulatory agencies way, way too far." The "gestapo" analogy may have been hyperbolic. Then again, maybe it wasn't. In some states more than others, federal OSHA inspectors have seemed heavy-handed, to say the least, in the eyes of factory managers.

But Nelson didn't merely challenge Hagel's accuracy. Instead, Nelson said the next day that the reference to "gestapo" was insensitive, particularly to Jews. The governor said it amounted to name-calling, and he said that is not constructive.

The Random House dictionary defines "gestapo," without the capital letter "g," as resembling the Nazi Gestapo, especially in the brutal suppression of opposition. Random House, ever sensitive to words that cause pain, does not identify "gestapo" as offensive.