The Other Guy Named Mitt Romney
The Republican Presidential candidate is named for his father's cousin Milton "Mitt" Romney.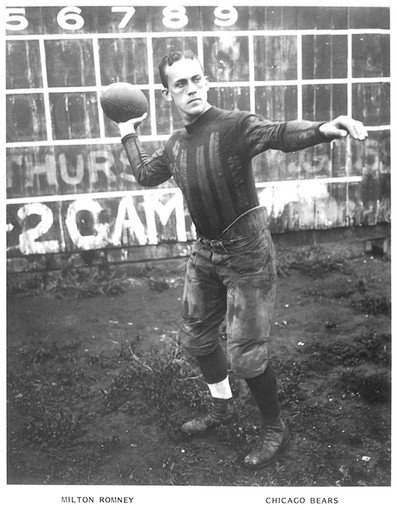 When you're the original Mitt Romney everyone knows your name, but no one knows who you are.
The presumptive Republican presidential nominee takes his name from Milton "Mitt" Romney, a Chicago Bears quarterback from 1925 to 1929.
The other Mitt Romney came to Chicago from Salt Lake City to attend school at the University of Chicago in Hyde Park. A Mormon, he was the first cousin once removed of the Presidential candidate's father George.
Romney excelled in athletics and was the star quarterback of the school's football team "the Maroons." Romney served as the captain of the 1922 team, leading the Maroons to their second-to-last Big Ten title before the school disbanded the football program in the late 1930s.
Romney was small by today's football standards. He was only five foot eight and weighed about 170 pounds.
After graduation, Romney played two seasons with the now defunct Racine Legion, in Wisconsin. In 1925 Romney came to the Chicago Bears, for whom he started 28 games until retiring in 1929.
Little is known about the rest of Mitt Romney's life. George Romney would name his son after his cousin in 1948. Romney died in Little Rock, Arkansas in 1975.