Terry McAuliffe: I Agree With Donald Trump... On GOP Loyalty Oath
"It smacks me the wrong way. I agree with Donald Trump," Virginia's Democratic governor said.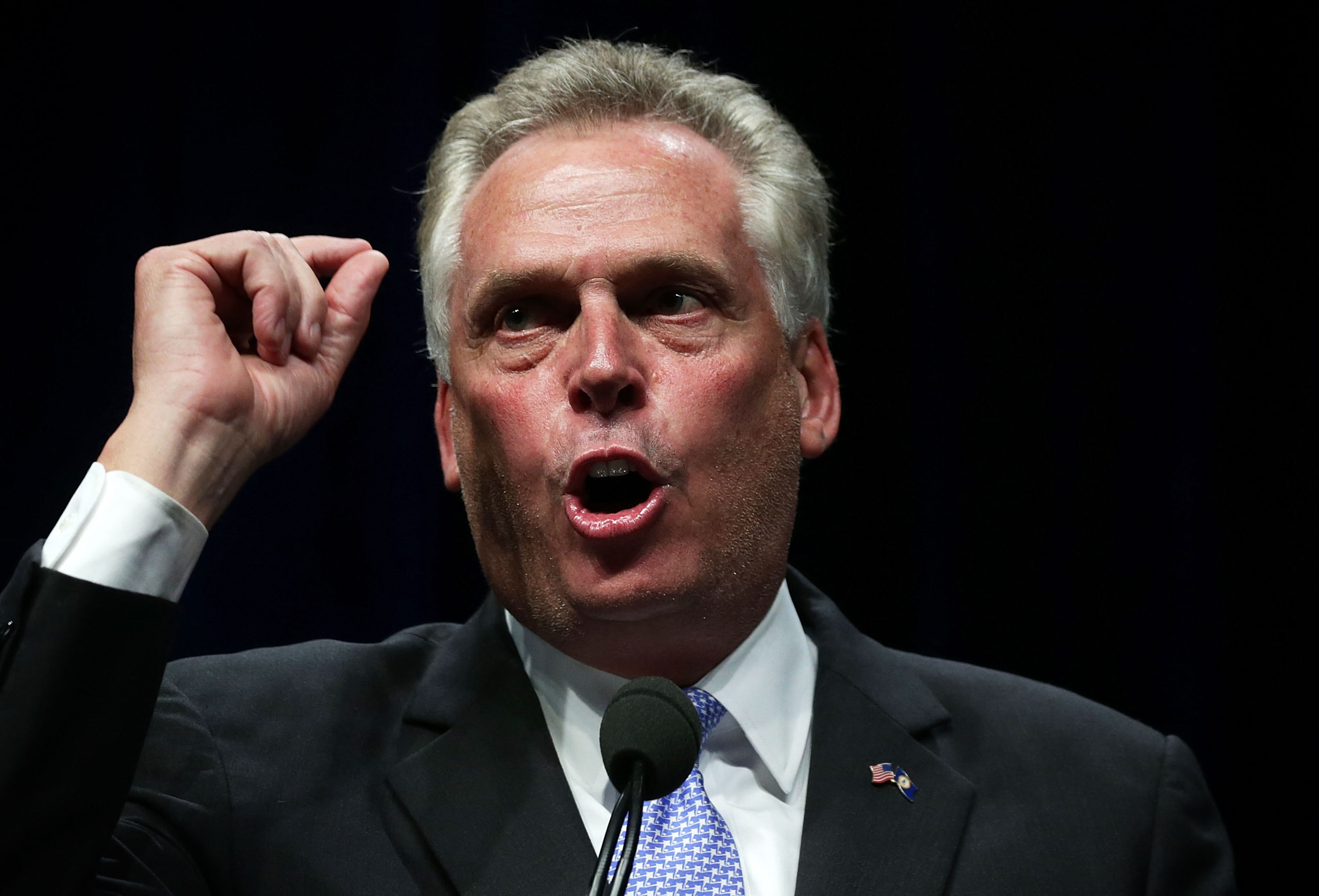 Democratic Virginia Gov. Terry McAuliffe said on Friday that he supports legislation that would bar the Virginia Republican party from requiring voters to sign loyalty pledges to vote in the state's primary.
Democratic state senator Chap Petersen has proposed legislation that would prohibit such a pledge in Virginia's open primary, telling the Richmond Times-Dispatch he was "happy to save the Republican Party from itself." McAuliffe, a longtime ally of Bill and Hillary Clinton, said he would sign that legislation if passed, saying, "I agree with Donald Trump."
Trump has strongly criticized the statement of affiliation, which the party says will read, "My signature below indicates that I am a Republican." Trump has said the pledge is an attempt "to disallow independent, unaffiliated and new voters."
"And I do agree with Donald Trump on this issue, I would say the same on the Democratic side," McAuliffe said on the John Fredericks Show. "The more people who want to come in, people don't like to sign oaths on anything. People vote, they may change their mind the next week, whatever, you're entitled to do that so I just, instinctively, I don't like the idea of loyalty oaths. It smacks me the wrong way. I agree with Donald Trump."
The Republican Party of Virginia claims that it informed the Trump campaign in September of the possibility of requiring that primary voters sign a statement. Trump campaign manager Corey Lewandowski has called this assertion "just not accurate," though an e-mail from the RPV's executive director addressed to the campaign appears to back it up.
On Jan. 14, a federal judge rejected an attempt by Trump supporters to stop the pledge. The plaintiffs, a group of African-American pastors, had argued that the pledge would deter minority voters.
In the interview, McAuliffe agreed that the pledge would discourage new voters from participating in the primary.
"I agree with Chap Peterson, that politics is about addition," he said. "You want more people voting. If you can convince them to vote in the primary and you can't hold them for the general election, no offense, shame on you. Then obviously, your message or candidates not working. Don't make you sign some foolish oath."