Cruz: No More Debates Hosted By People Who Would Never Vote In A Republican Primary
"It's not helpful and it is an example of the media's leftwing agenda."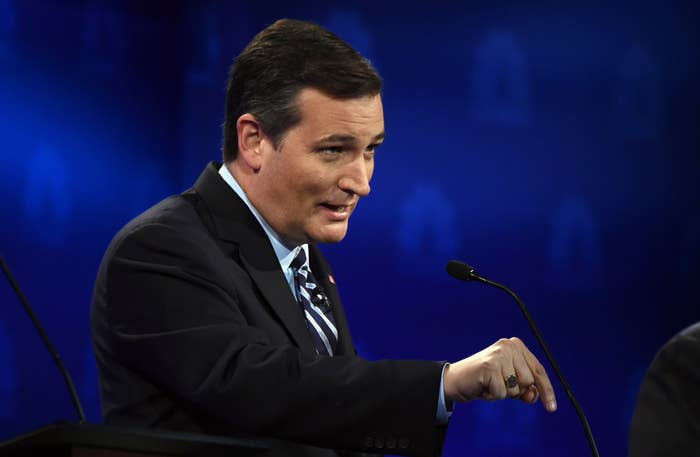 Texas Sen. Ted Cruz says it is "crazy" for Republican primary debates to be moderated by journalists who would never vote in a Republican primary.
Speaking about the criticism CNBC has received from Republicans for its handling of Wednesday night's debate, Cruz on Thursday said on the Heidi Harris Show, "You know we've seen this throughout the debates where they have tended to really be looking for just a food fight and looking for insults and one candidate attacking another."
Cruz, who got his biggest applause Wednesday night at the CNBC debate when he criticized the moderators' questions, said that mainstream media hosts simply want to help Democrats.
"That is not helpful to Republican primary voters who are making a decision who to support," added Cruz. "But unfortunately, the moderators interest is not in actually trying to determine who would be the strongest conservative to, number one, fight for the principles we believe in and number two, to beat Hillary Clinton in the general election.
"The moderators' interest is just, causing, insulting every candidate there," he continued. "Causing everyone of them to fight and no one should be surprised that none of those moderators in all likelihood are planning to vote in the Republican primary. There interest is whoever the Republican nominee is, they want to beat that person up as much as possible and cause people either to stay home or vote for Hillary."
Cruz noted it wasn't a good idea to let those in the mainstream media host debates.
"And I think it's crazy that we have Republican primary debates moderated by people who would never in a million years vote in a Republican primary. It's not helpful and it is an example of the media's leftwing agenda."
Cruz said "every question is designed to be an insult," singling out questions for Ben Carson, John Kasich, Marco Rubio, Jeb Bush, and Donald Trump he thought was unfair.
"They attack Ben Carson, a world renowned neurosurgeon, and say, 'you can't do math,'" said Cruz. " Cruz said a better question for candidates would be, "tell me about your tax plan," or past immigration positions and then ask candidates to show how it differed from other candidates.
Carson was asked by CNBC moderator Becky Quick specifically asking about his tax plan and how his flat tax would work if it was bringing in trillions of dollars less in government revenue than the current structure. Quick, said. "I've had a really tough time trying to make the math work on this.
"None of those moderators have any interest whatsoever in asking those questions and I was glad that last night, particularly after I called out the moderators to see a number of other candidates stepping forward and doing the same. You know, it was really striking that as the debate went the audience began booing the moderators. More and more ridiculous questions."