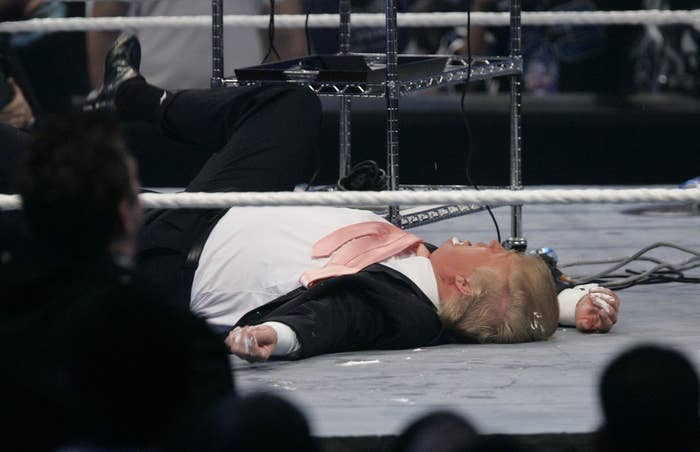 In 2007, Donald Trump participated in a "Battle of the Billionaires" at WrestleMania 23, where he and his team of wrestlers defeated WWE head Vince McMahon (and shaved his head).
Refereeing the match was Stone Cold Steve Austin, who at one point, delivered to Trump his signature move: the Stunner.
In one episode of his podcast, The Steve Austin Show, the former wrestling champion revealed how a last minute push from McMahon got Trump — against the advice of his top aide — to take the Stunner.
"I was a special referee," Austin said. "Right before we went out, Vince said to Donald, cause he was already telling me, 'I'm gonna see if I can get Donald to take the Stunner.'"
Austin said he thought Trump would never do it.
"And I'm like, 'dude, don't worry about,'" Austin recalls telling Mcmahon. "'He ain't gonna do it.' And he goes, 'no, no, no, I'm gonna ask him.' And sure enough Vince went right over there, put Donald on the spot and right before we went out and goes, 'hey, you know, Stone Cold Steve Austin is refereeing the match and he has a finishing move called the Stone Cold Stunner. Would you mind taking it?'"
"And, boy, right then, Donald Trump's number one advisor, his right hand guy at the time, gave him every single reason why he does not need to take the Stunner," continued Austin. "'Hey, man, this is not a good idea; you don't need to do it; you're doing enough by being here.' Donald looked at Vince and he goes, 'sure, I'll take it.'"
The Donald and Austin spoke only briefly about how it would be delivered.
"We briefly talked about how to do the Stunner, right before we went out," he said. "It was one of the worst stunners I've ever done but that's a Donald Trump story for ya and that's why I've always respected him."
"I always appreciated him taking that bump because he didn't have to," concluded Austin of Trump, noting he was a wrestling fan.
Watch the Stunner below: