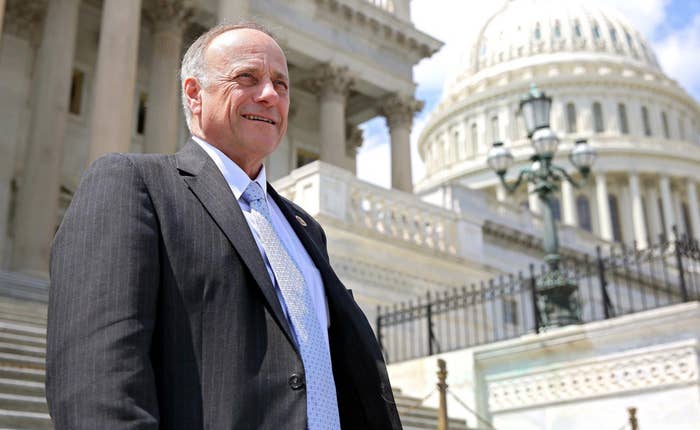 In a phone interview with BuzzFeed News, Republican Rep. Steve King of Iowa defended comments he made on Friday questioning how American Jews could be Democrats and support President Obama.
King, expanding on the comments, said much of the backlash occurred because "everyone in the discussion knows I'm right."
On Friday, King told Boston Herald Radio he didn't understand "how Jews in America can be Democrats first and Jewish second..."
"Here is one thing that I don't understand, I don't understand how Jews in America can be Democrats first and Jewish second and support Israel along the line of just following their president," King said. "And it's all — it says this, they're knee-jerk supporters for the president's policy. The president's policies throughout the Middle East have been a disaster. I would say to them, name a country where we have better relations today than we had when Barack Obama took office?' And I gave that in speeches in about six weeks until some lad stood up and said, 'I can name you two, they are Cuba and Iran.'"
King told BuzzFeed News Sunday he stood by those comments and that much of the criticism, particularly from New York Democrat Rep. Steve Israel, was an "effort to try to marginalize an opinion," through name calling.
Israel tweeted on Friday, "I don't need Congressman Steve King questioning my religion or my politics. I demand an apology from him & repudiation from GOP." King responded, "Real men make such requests face 2 face & man 2 man. I defend Israelis from Leftists & misogynists."
King said Israel's tweets descended into name-calling, saying of the exchange "I have more important things to do than do that."
Israel had tweeted of King, "Good to know @SteveKingIA has become a Talmudic scholar on what defines Jews. Steve, you really are mashugana. Look it up."
"Congressman Israel has interpreted a question to be lecture," said King, and he "converted it into simply calling me names."
Asked why he thought Jewish Democrats supported the president, King said many were secular and didn't have ties to Israel.
"I think many of them no longer have ties to Israel," said King. "They are secular, they are Democrats by political affiliation and by their nature they are leftist."
"Many are leftists first," he said.
He added, "those who regularly go to synagogue…" support Israel. "That's not the case with those who align themselves with the political left."
On CNN Sunday, Israel said, "I really do not need a lesson from people like Steve King on what it is to be Jewish or a Democrat. He added, "I'm not going to take lectures from Republicans like Steve King about how to support Israel."
King said of Israel's call for him to apologize that if Israel asked him for a dialogue in person he'd be open to a discussion.
"If he comes up to me and wants to have a man-to-man conversation I'd be open to that."