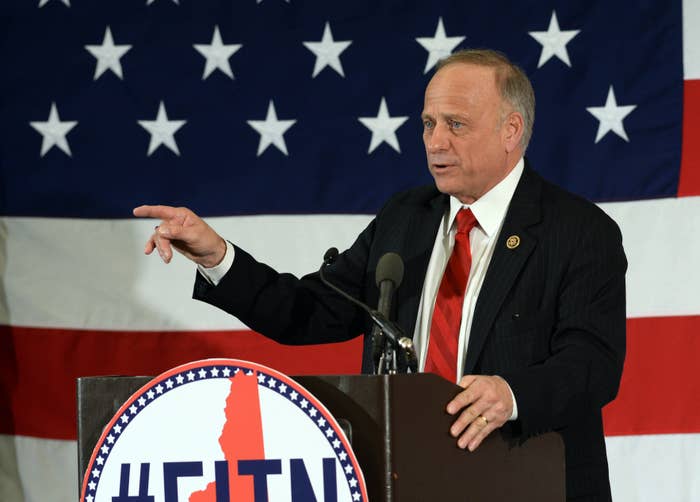 Republican Rep. Steve King, while discussing on Thursday the Obama administration's plan to admit 10,000 Syrian refugees next year, said President Obama is "filling our country up with people that will continue to attack us" and cited Obama's upbringing in Indonesia as giving him an entirely different idea of what America should be like.
"We just should remember that, when — where we grew up is — when we were in our grade school that's when the world was right and we tend to want to recreate that idyllic scene in our adulthood thinking that's the best thing for America. And in my case, it is. I grew up with 'Fun with Dick and Jane,'" said King on Boston Herald Radio. "Wonderful. But you know, while I was going on, he was going to a school in Indonesia, so his idea of America is entirely different than the idea that most Americans have of what we ought to be like, and he's filling our country up with people that will continue to attack us."
Earlier in the interview, King said that Obama was "feckless" and that his administration did not due its due diligence.
"We've got a feckless president that can't — we can't win a war without a commander-in-chief, we have a commander-in-chief that won't let us fight it, so we're vulnerable here in America and we're vulnerable because he has established a feckless administration that does not do their due diligence," King said.
King was asked if he thought ISIS terrorists would slip into the United States through the refugee resettlement program, in the context of a Department of Homeland Security inspector general report finding 73 TSA workers were on government terrorist watch lists.
"And when something like this pops up, if I'm running a shop like that we're gonna do all hands on deck and we're gonna fix that problem," continued King. "We'll purge everybody that we can identify that might even be in question and we'll start all over with a new security system. But he's got a different idea about what merits should be like."
The Iowa congressman added that bringing in refugees was like bringing in "needles" that are terrorists along with the hay. King also asserted the number of refugee was probably 200,000 not 10,000.
"And by the way, when I look at lists of those who have gone to work for ISIS out of America, there's at least 66 on that list. Some were refugees, many were immigrants to the United States, and most almost all of them — some of them came in at a very young age and were still radicalized so, background checks, it's just — it's a fallacy to believe that we can protect ourselves with background checks. It's a huge haystack of humanity that they're trying to bring into America. This 10,000, 100,000, 200,000 more likely, and in that haystack hay's benign, but there are needles in it that are terrorists. And they think they can sort them out, but of course they can't."