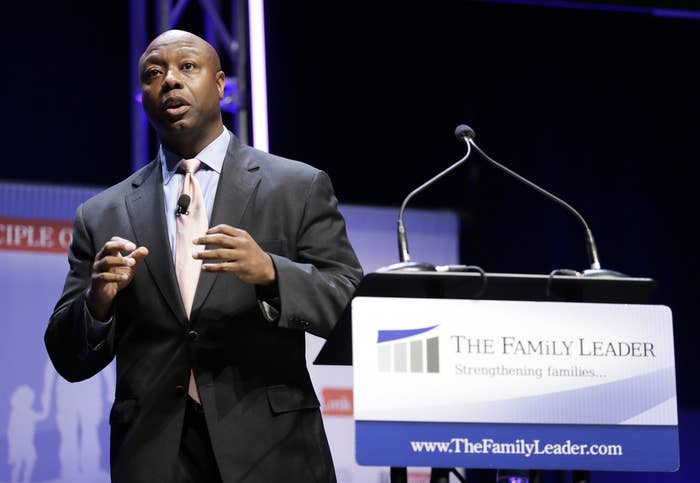 South Carolina Republican Sen. Tim Scott said he was "horrified" and brought to tears watching a video of a Charleston police officer shooting and killing an apparently unarmed black man while he was running away from the officer Saturday.
"I think it's incredibly important for us all who've seen the video to acknowledge that the clear fact that [what] we saw was an inexcusable action that challenges all of us to our core," Scott said on Charleston Mix96's 2 Girls & A Guy morning radio show. "There's no doubt I had tears in my eyes. I just watched it for the second time. And I was just horrified when I saw it the first time."
Patrolman First Class Michael Slager, 33, was charged with the murder of Walter Scott, 50, who Slager shot several times Saturday while he was running away. All officers in the city are now going to begin wearing body cameras, the city's mayor also announced on Wednesday.
"I will say this: that the law enforcement divisions responded very quickly with an arrest which according to the video that I saw was appropriate," Scott added.
"I think this is a time, an opportunity for our community to come together and not to let anyone pull us apart. I'm thankful to be born and raised in North Charleston. I am a kid that went to elementary, middle, and high school, college as well. I am very proud of my city. I am thankful that I've had the opportunity to reach out to community leaders."
Scott added he had spoken with the city's mayor and chief of police. He said the aftermath would be "a very important test" for the city and the state.
"And this is going to be a very important test for our community, for our state. I think we have learned lessons from challenges and tragedies in our past and I look forward to being a meaningful part of a community solution."
Here's the audio of the interview: