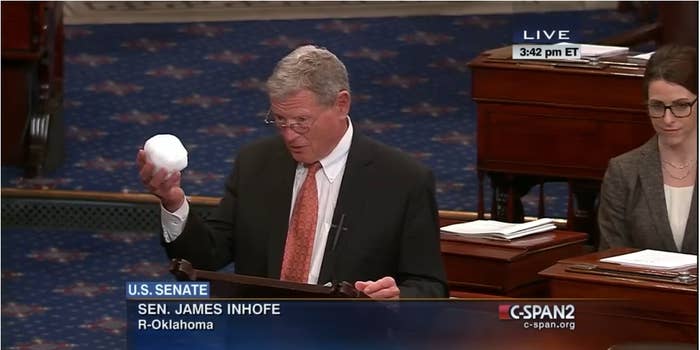 Oklahoma Sen. James Inhofe -- a vocal skeptic of climate change and the author of The Greatest Hoax: How the Global Warming Conspiracy Threatens Your Future -- says Pope Francis never addressed climate change when he spoke before Congress on Thursday.
"He wasn't strong at all when he talked about this," the Inhofe said on Washington Watch on Thursday. "He never used the term 'climate change' or 'global warming.' I can tell you right now, the liberal Democrats that were sitting there were very disappointed in him. Now when he talks about the most serious effects of environmental deterioration, well you got to keep in mind, that goes back to the 1990 Clean Air Act Amendment."
Inhofe cited the Clear Air Act as a "success" saying it lowered the pollution in the air while the population grew and electricity use increased.
"To me, my interpretation of that it had nothing to do with climate change," said Inhofe.
"All they wanted him to do was say the term global warming or climate change," the Oklahoma senator added, saying Democrats glossed over other parts of the pope's message.
The pope did, however, reference climate change in his speech, as has been widely-reported. The pope even referenced his June encyclical about fighting climate change.
He did not, as the senator said, use the word "climate change" however.
"I call for a courageous and responsible effort to redirect our steps, and to avert the most serious effects of the environmental deterioration caused by human activity," the pope said at one point.
"We need a conversation which includes everyone, since the environmental challenge we are undergoing, and its human roots, concern and affect us all," he said at another.
After radio host Tony Perkins read some of the pope's remarks on climate change to Congress to Inhofe, the Oklahoma senator said he didn't believe that was in the pope's remarks but he couldn't understand the pope.
"The total statement that you just read I don't think was in his remarks, my problem was, you guys in the press had a copy of it and I didn't," added Inhofe. "I was sitting on the floor and I didn't understand 3/4ths of what he said."
The senator added he was happy the pope didn't address climate change specifically and he was glad Democrats and the media were disappointed.
"You're gonna find not just individuals in the Senate who are wishing he'd say something and therefore going to put their interpretation on it, but also members of the media who were anxious for him to say more than he said," he concluded. "And so they're going to put that interpretation on it. That's what's happening and I'm glad to see those people disappointed."