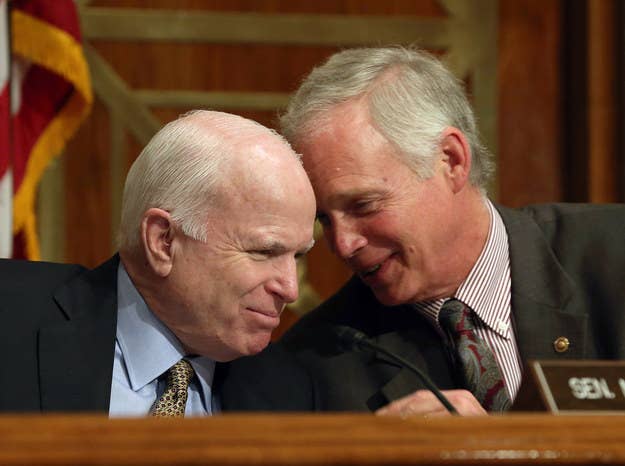 Sen. Ron Johnson, the chairman of the Senate's Homeland Security Committee, responded to a BuzzFeed News report Wednesday with a statement saying he did not trust Supreme Leader of Iran Ali Khamenei over President Obama when it comes to negotiations over Iran's nuclear program.
"The headlines accusing me of saying I trust the ayatollah in Iran are false," the Wisconsin Republican said in a statement on his website. "Simply reading my actual words in the stories below those headlines shows this. And let me say for the record, I certainly do not trust the ayatollah."
Johnson said at a recent town hall discussing a nuclear deal with Iran that he was "not so sure" he trusts President Obama over the Iranian leader.
"Now, a President who was awarded the 2013 Politifact Lie of the Year, if you like your healthcare plan you can keep it, period. If you like your doctor you can keep it, period. They lied boldfaced to the American public repeatedly with Obamacare," Johnson said at the Cedarburg, Wisconsin town hall.
"I don't know, I hate to admit it, but in terms of this framework, do I trust President Obama, or do I trust the Ayatollah? In terms of what the framework actually says? I'm not so sure I'm trusting President Obama on this."
Iran and six world powers reached parameters for a framework for a final deal on the country's nuclear program in early April, but differences quickly emerged in each side's interpretation of the parameters. The disagreements ranged from the level of access inspectors will get in Iran to how quickly sanctions will be relieved.
"I want to trust our president on this subject," Johnson added in his statement.
"The fact remains that he needs to be more forthcoming on his negotiations and he needs to involve Congress fully in developing the agreement. The real question is why President Obama does not trust the people's chosen representatives with a simple up-or-down vote of approval and why the president believes he can trust the Iranian regime to comply with any agreement."
Although Johnson has walked back the comments, in a radio interview two weeks ago he made a similar statement.
"I would unfortunately have to say I would believe the Ayatollah's in terms of what the deal is more than I believe this administration," said Johnson on a local radio program, clipped by the Democratic research firm American Bridge. "And that's a really sad statement to make"
Here's the video of Johnson's original remarks that brought about the clarification: