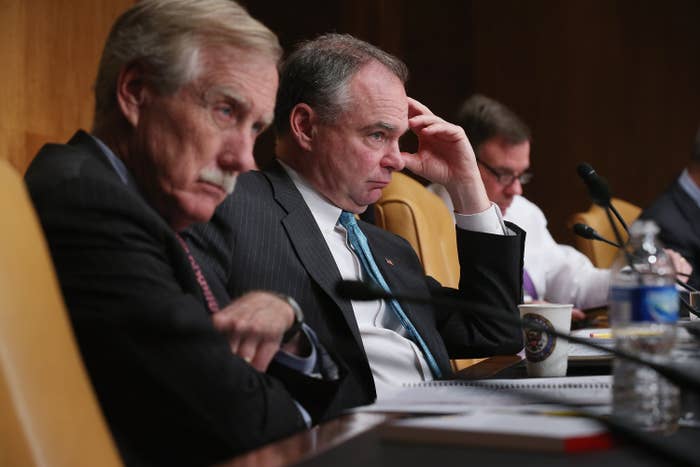 Democratic Sen. Tim Kaine said in a radio interview this week that during an overseas trip in January, both Turkish President Recep Tayyip Erdoğan and Israeli Prime Minister Benjamin Netanyahu expressed dismay at the anti-Muslim rhetoric coming from some of the candidates in the presidential race.
"I'm on the Foreign Relations Committee, and so I do spend time abroad visiting our troops," Kaine told the VA Talk Radio Network this week. "I was in the Middle East in January and back-to-back had evening meetings with Prime Minister Netanyahu in Israel and President Erdoğan in Turkey. These guys agree on nothing but they both said to this group of senators 'what's going on in the presidential race?'"
"And especially, they were very worried about some of the anti-Muslim rhetoric coming out of some of the candidates because they are societies that are too sectarian," continued the Virginia Democrat. "They hope one day to be less, but the only way to get there is if they have an example of a country where people of different religions can live and work together and go to school together and make it work. We've been that example for them and they're very nervous when they see us backsliding."
Earlier in the interview, Kaine said the race was "the silliest" he's ever seen, but noted that historically some past elections had been especially nasty as well.
UPDATE
A spokesperson for Israel's PM sent BuzzFeed News this comment:
"Prime Minister Netanyahu is very careful to avoid even the appearance of preference among American presidential candidates.
"In his meeting with Senator Kaine and his colleagues, Prime Minister Netanyahu did not express any opinion about the candidates or any of their positions."
Update
This headline has been updated.