Sen. Mark Kirk Says Rep. Tammy Duckworth Is "A Naive Fool Not Fit For Office"
He's not a fan.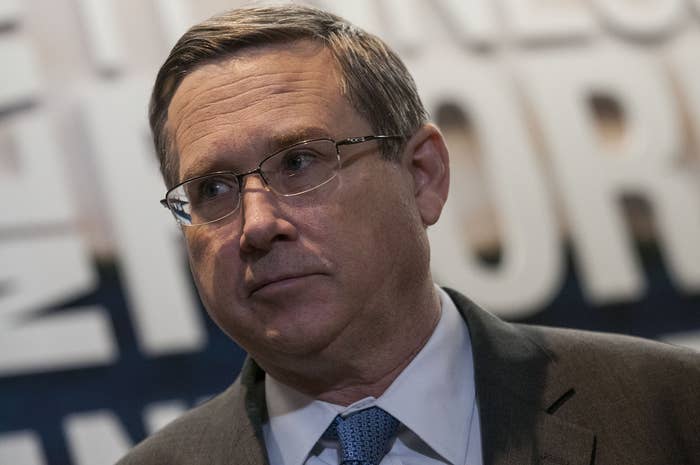 In a radio interview Friday, Republican Illinois Sen. Mark Kirk said Rep. Tammy Duckworth, his presumptive Democratic opponent in the 2016 Senate race, is "a naive fool not fit for office" for her comment that those using harsh rhetoric about Muslims deserve some blame for the radicalization of American Muslims.
Duckworth had singled out Kirk and Republican frontrunner Donald Trump as two people who used such rhetoric in an editorial board meeting flagged by the Washington Free Beacon
Kirk, speaking on the John Howell Show on Friday said Duckworth's comments were "blindly idiotic" and "dumb."
"For Tammy Duckworth to blame the junior senator from Illinois for Islamic terror shows that she is a naive fool not fit for office in the Senate," said Kirk in comments first uploaded to YouTube by the Democratic firm American Bridge. "Not that the Democrats have not done well in the War on Terror. The attempt to blame Republicans for radical Islamic terror is the last refuge of — totally false, and not effective, and showing just how far they will go to try to hold on to office."
Late last year, following the terrorist attacks in Paris, Duckworth argued not taking into refugees played into ISIS' hands, while Kirk said a pause in accepting refugees was warranted.
"It was just so dumb, you just lay it out there, so blindly idiotic that people of Illinois would think that," he continued. "You just let her build a fire and burn herself down."
"She's a very partisan person. I don't think she's capable of doing that," Kirk added, when asked if Duckworth had apologized to him.
A Duckworth spokesman fired back at Kirk saying the senator has been repeatedly wrong on nationals security.
"The truth hurts: Mark Kirk helped lead the charge into the Iraq War, and that disastrous decision created the conditions which gave rise to ISIS. He was wrong then, he's wrong now, and his bizarre Twitter tantrum and subsequent statements reveal that he doesn't appreciate being challenged or held to account for how he's been wrong on just about every critical national security issue of the past 15 years, or for his irresponsible rhetoric."