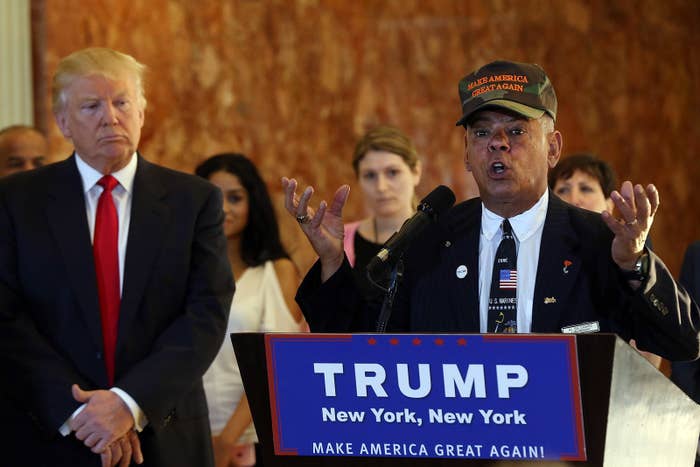 Donald Trump adviser Al Baldasaro says he spoke to the Secret Service after he said that Hillary Clinton should be shot in a firing line for treason.
Baldasaro, a New Hampshire state representative who advises Trump on veterans issues and was a delegate for him to the Republican convention, says he stands by his comments — though he contends they were misunderstood.

"What I'm saying is nobody is above the law. We're a nation of laws. I spoke as a veteran and what I said was in accordance with the U.S. Code 18 and the Constitution on treason," Baldasaro said on Liberty Roundtable radio on Friday.
"I, as an American, had an opinion, OK, on somebody that I believed had the broke the law, that put my fellow veterans and police, special agents, spies in other countries in danger," he continued. "And they took it to the extent that they read between the lines of what I said. Naturally, you have to go in front of a court and be found guilty. If somebody didn't understand that, then I'm sorry. That's the far-left liberals that were too blind or the progressives, which is the next closest thing to socialism."
"If that was me or you, we'd be in jail. We'd be arrested. Nobody is above the law. I just can't see how she can be president," he continued.
Baldasaro commented on his conversations with the Secret Service, which took place after BuzzFeed News reported his comments that Hillary Clinton should be put in a firing line and shot for treason on the Jeff Kuhner Show in July.
"Anyways, the Secret Service called me on the phone from Manchester, and I'm in a hotel now with Secret Service, and I'm with Donald Trump at the convention, and I'm in the same hotel with Trump," he said. "Nobody questioned me at all. Now, I called them the next day cause he texted me the next day, too."
"He told me straight up, 'I listened to it. There was nothing there, but I have to ask you a question. Do you feel like killing Hillary Clinton?' I said 'No. Of course not. We're a nation of laws. I stated an opinion.' As far as I'm concerned, it's over and done with."
"We're Americans. We cannot give up one inch. I didn't serve 22 years in the Marine Corps to give up one inch of my freedom of speech or any freedom."