SD Senate Candidate Sat On Board Of Company While It Defrauded Investors Of Millions
Update (10:45 p.m.): Former Sen. Larry Pressler tells BuzzFeed News he regrets he ever joined the board.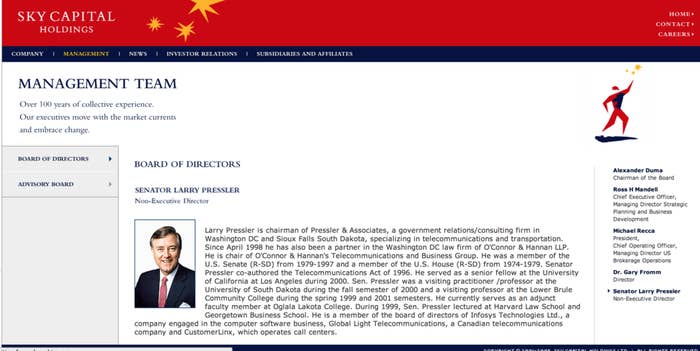 Following his tenure in the Senate, former Republican Sen. Larry Pressler sat on the board of a brokerage firm, Sky Capital, that defrauded investors of $140 million over an eight-year period, according to federal prosecutors.
Pressler, who is running for Senate in South Dakota as an independent, was on the board of Sky Capital from 2004 until he resigned in 2006, according to court documents and numerous news reports. Pressler served as non-executive director of the board.
Sky Capital was founded by Ross Mandell, who served as chief executive and was sentenced to 12 years in prison in 2012 for conspiracy, securities fraud, wire fraud, and mail fraud.
Pressler was never accused of wrongdoing, but repeatedly vouched for the character of Mandell, who was at the center of the fraud operation.
In an interview Sunday night, Pressler told BuzzFeed News he regrets that he joined the board, saying he felt "used" and "burned."
"If I had to do it all over again I wouldn't have joined the board," Pressler said. "I resigned as soon as I found out."
In 2011, Manhattan U.S. Attorney Preet Bharara said in a press release following Mandell's conviction that he and and another Sky broker who was tried with him "were masters of deception who had no qualms about lying to investors, manipulating stock prices, and using dubious trading practices to enrich themselves at the expense of their victims."
Pressler was one of several big-name U.S. political types, along with Iraq envoy L. Paul Bremer and former New York Police Commissioner Howard Safir, that Mandell used to bring legitimacy to his scheme.
"They had one of the most prestigious boards I had ever been associated with," Pressler told BuzzFeed News. "I suppose it's the kind of board a former senator should be more careful of joining."
"It was a stellar glimmering board," he added. "As far as I knew everything was going fine. I must have been shown dummy books. In my 18 years since I've left the Senate, I've learned a lot."
The New York Post reported Pressler was having a meeting with Mandell in 2006 when when 45 FBI agents raided Sky Capital's Wall Street office, but Pressler said that information cited by the Post came from Mandell and he was not there.
"I was not there," Pressler told BuzzFeed News on Sunday. "He must have been mixed up."
Following the 2006 raid, Pressler said at the time, "Obviously we have a lot of work to do," according to a Wall Street Journal article on Sky launching its own internal investigation. "We have to be sure everything is being done right." The Wall Street Journal also reported Pressler said at the time he believed the FBI may have been be looking at events that "go back aways."
Pressler had a track record of vouching for Mandell's character when the crimes took place. In a 2005 Forbes profile of Mandell and his past trading problems in the 1990s, Pressler said he thought Mandell was a changed man.
"I've come to know Ross Mandell personally," Pressler was quoted by Forbes as saying. "I concede that in the 1990s he made some mistakes, but I believe in second chances for people. He's an entrepreneur and a businessman, honest and good."
"I do believe in second acts in American lives," Pressler said of Mandell another time, as quoted by the Wall Street Journal.
Forbes said of Pressler's relationship with Mandell, he was "one of his closest advisors."
In 2002, when Pressler ran for South Dakota's at-large Congressional seat, employees of Sky Capital were the biggest donors to his campaign, according to the Sunlight Foundation's website Influence Explorer. Mandell himself donated $2,000 to Pressler's campaign. Adam Harrington, who was tried with Mandell and convicted of the same four counts, donated $1,000.
Following the FBI raid, Pressler said, "I'm flabbergasted by this whole thing."
On Sunday, in the interview with BuzzFeed News, Pressler reiterated that he was stunned by Mandell's actions at the time. "I felt burned and flabbergasted," he said. "I really thought Ross Mandell had problems and he was rebuilding himself." He denied he had a close advising relationship with Mandell, and said the information in the Forbes article came from Mandell, not him.
Court records show at least one investor who testified at the trial cited Pressler as giving Sky Capital legitimacy.
"You know, there was the guy, there was the insiders in Washington that were going to be involved in this thing, Sen. Larry Pressler," said one investor James Hankins who lost more than half a million dollars in Sky. "And when we got to the situation with Global Secure, we were talking with Dick Armey -- I didn't know who Dick Armey was at the time. And I didn't know who Senator Larry Pressler was at the time, as well. But it was a Senator and Pressler was Washington, D.C. Gives it some validity, gave a lot of validity at the time."
Pressler resigned from the company following the raid after failing "to win a board resolution for Mr. Mandell to stand down," the Journal reported, citing Pressler and another person familiar with the meeting.
"I'm actually proud of my record there," Pressler said on Sunday night. "When I made a motion to fire Mandell that failed by one vote, I walked out and resigned."
"Sometimes former senators are used and I felt used. I was burned deeply and I'm embarrassed, but I certainly did nothing wrong," he said.
"I was not one the directors who ran the company," added Pressler.
This story has been updated to include an interview with Pressler.