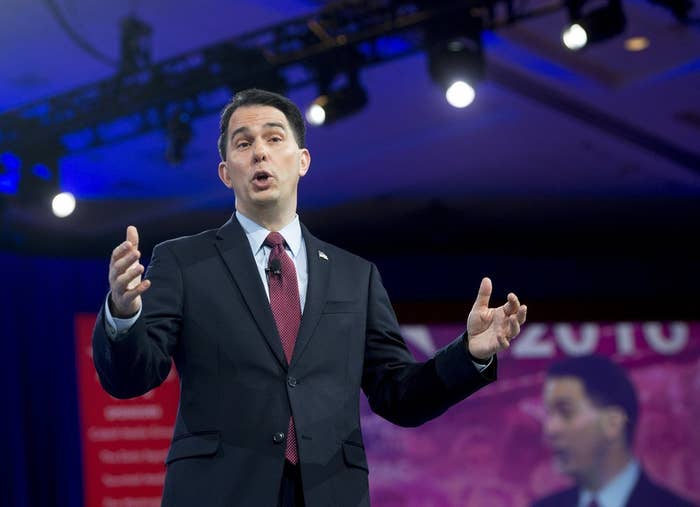 Wisconsin Gov. Scott Walker all but declared his intention on Wednesday to endorse Ted Cruz ahead of the state's upcoming presidential primary on April 5.
Walker said his views are more aligned with Cruz or John Kasich, but made clear Kasich has no chance of winning the nomination and the only person who could beat Donald Trump was Cruz.
"We're gonna probably gonna make a decision this week," said Walker, saying he would wait until after Easter because it would have the "maximum impact."
"I think it's fair to say that my views, my beliefs, my strategy overall would be more aligned with Sen. Ted Cruz or Gov. John Kasich," he continued, speaking on WTMJ's Charlie Sykes Show on Wednesday.
"If you're someone who is uneasy with the frontrunner, right now there's really only one candidate — if you're just looking at the numbers objectively — Sen. Cruz, Ted Cruz is the only one who's got a chance other than Donald Trump to win the nomination," Walker said. "Statistically, my friend Gov. Kasich can not."
Walker said he'd spoken to all the candidates a number of times since he suspended his campaign, including Kasich a couple weeks ago. The Wisconsin governor said he thought it was great he stayed in until Ohio, when it seemed both he and Rubio might deny Trump delegates.
Walker said he believed an "open convention" wasn't actually a bad thing if it came to that.