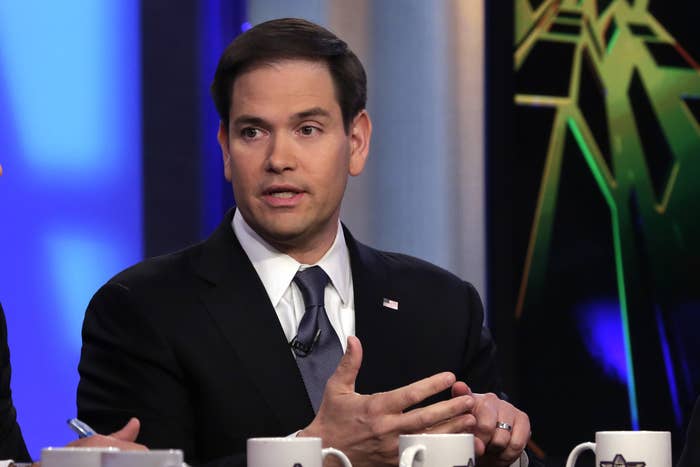 While Sen. Marco Rubio was on a big fundraising swing through California, he missed a top secret intelligence briefing on ISIS from the Senate Foreign Relations Committee and two closed Intelligence Committee briefings from that period, according to records.
Rubio spent a week in California for what was deemed an "aggressive" fundraising trip. On the day of one hearing Rubio appeared at a $1,000 per-person admission Beverly Hills fundraiser.
The trip benefited the Rubio Victory Committee, which is a joint fundraising committee of Rubio's Senate campaign and Reclaim America PAC, according to Los Angeles' CBS-affiliate.
The closed briefing on the "Campaign against ISIS," featured Nicholas J. Rasmussen, the directer of the National Counterterrorism Center, Christine Wormuth, the Under Secretary of Defense for Policy, retired general John R. Allen, the special presidential envoy for the global coalition to counter ISIS, and Major General Steven M. Shepro the vice director for strategic plans and policy.
The Intelligence Committee also shows two closed briefings from the week in which Rubio was on his fundraising haul.
A spokesman for Rubio said the senator was considering running for president and that "it's not unusual for presidential candidates to occasionally miss Senate business."
"Since he's been in the Senate, Sen. Rubio has received regular classified briefings, attends most Intel committee hearings, and reads intelligence reports on a regular basis," a spokesperson for Rubio told BuzzFeed News. "He is seriously considering running for president and taking the necessary steps to field a competitive campaign, and it's not unusual for presidential candidates to occasionally miss Senate business."
Rubio has been strongly critical of President Obama's strategy to combat the rise of the ISIS.