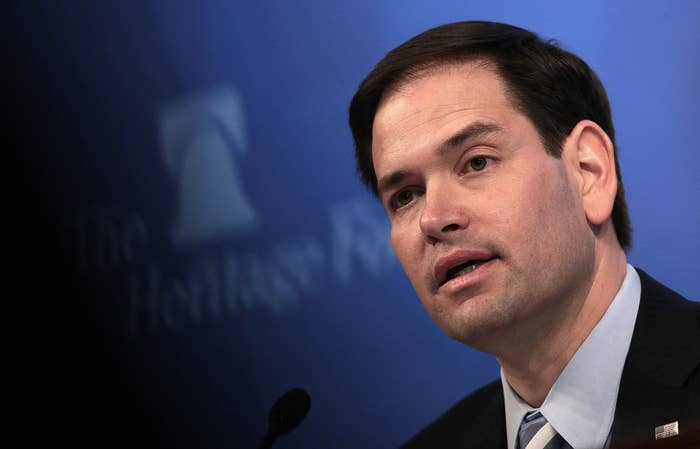 Marco Rubio missed a closed Intelligence Committee briefing Tuesday while in Texas for a fundraising swing for his presidential campaign. The closed meeting was early in the afternoon.
According to the Texas Tribune, Rubio was in Houston and Dallas on Monday and Tuesday for a fundraising trip. The Tuesday fundraiser is at the home of Annandale Capital founder George Seay, and, according to Reuters, is taking place "with the moneyed Dallas elite at his 7,000-square-foot, seven-bath home."
Rubio has cited his "extensive work" with the Intelligence Committee and Foreign Relations Committee as experience that sets him apart from the current president, who was also a one-term senator when he ran for president.
"Since he's been in the Senate, Senator Rubio has received regular classified briefings, attends most Intel committee hearings, and reads intelligence reports almost on a daily basis, and if he misses a hearing, he is always briefed on the material covered," Rubio spokeswoman told BuzzFeed News.
"He is seriously considering running for president and taking the necessary steps to field a competitive campaign, and it's not unusual for presidential candidates to occasionally miss Senate business."
Vocativ reported earlier this year that Rubio's voting record was the worst in the Senate.
In January, while on a big fundraising swing through California, Rubio missed a top secret intelligence briefing on ISIS from the Senate Foreign Relations Committee and two closed Intelligence Committee briefings from that period, according to records.
Rubio was spending a week in California on what was deemed an "aggressive" fundraising trip by the press. On the day of one hearing, Rubio appeared at a $1,000 per-person admission Beverly Hills fundraiser.