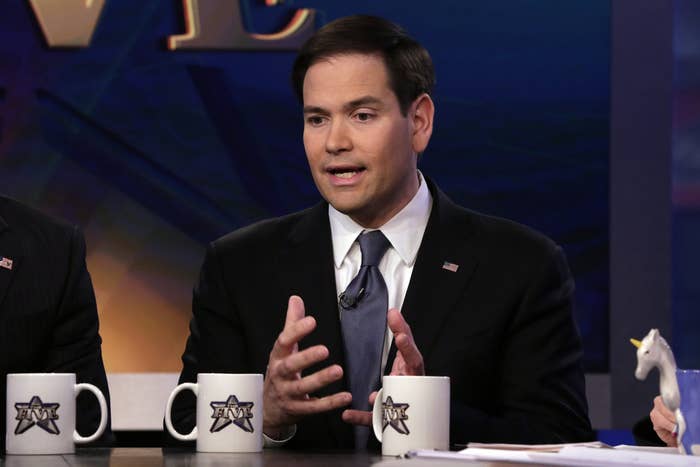 Florida Sen. Marco Rubio, who is expected to announce that he is running for president Monday, skipped a series of hearings in the aftermath of Osama Bin Laden's death, including a specific hearing Rubio had called for on talk radio days before he skipped it.
"Do you want the Foreign Relations Committee to be holding hearings soon into the circumstances of bin Laden's death, and the circumstances of his being harbored in Pakistan," radio host Hugh Hewitt asked Rubio on May 2, 2011.
"Well, I sit on two committees that I think are going to look at this. The first is the Intelligence Committee, and I know we meet twice a week, and we'll be meeting tomorrow, and I think there'll be some questions answered there," Rubio responded.
The senator added he hoped the Foreign Relations Committee would hold a hearing on the relationship with Pakistan.
"Obviously, much of that will never be discussed publicly. And then the other is kind of our relationship with Pakistan, on an international level, the aid packages we put together to Pakistan, and that ongoing relationship. And I do think that that's something that Foreign Relations should look at, and I hope the chairman will hold hearings on our relationship with Pakistan."
Three days later, Rubio skipped the Foreign Relations hearing on "Assessing U.S. Policy and Its Limits In Pakistan."
The Washington Post first reported Rubio skipped the hearings but didn't note Rubio had specifically called for them. The Post also noted Rubio missed a 2013 hearing on the War in Afghanistan and another 2013 hearing on Afghanistan and Pakistan.
The day of the hearing, Rubio also conducted a phone interview with the Tampa Tribune on torture.
"As a member of both the Senate Foreign Relations and Intelligence committees, Senator Rubio receives frequent briefings and reads intelligence reports on a regular basis, in addition to attending most hearings. If he misses a hearing, he's briefed on the material covered," a Rubio spokesperson told BuzzFeed News.
"The day after Osama Bin Laden was killed he received a secure briefing at SOUTHCOM headquarters in Doral, and then attended Intelligence committee hearings later that week in Washington, DC."
Vocativ reported earlier this year that Rubio was the senator who missed the most votes.
Earlier this year, while on a big fundraising swing through California, Rubio missed a top secret intelligence briefing on ISIS from the Senate Foreign Relations Committee and two closed Intelligence Committee briefings from that period, according to records.
Rubio was spending a week in California on what was deemed an "aggressive" fundraising trip by the press. On the day of one hearing Rubio appeared at a $1,000 per-person admission Beverly Hills fundraiser.