Romney Viewed Affordable Housing As Right, Not Privilege
Before his current laissez-faire incarnation, Gov. Romney backed, practiced extensive intervention in the market.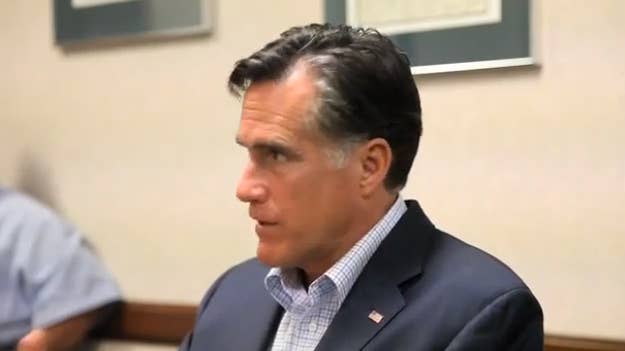 Mitt Romney's view that the government should stay out of the housing crisis is one of the clearest, and most controversial, of his 2012 campaign. "Let it run its course, and hit the bottom," Romney told the Las Vegas Review-Journal editorial board in October. "Allow investors to buy homes, put renters in them, fix the homes up and let [the market] turn around and come back up." Democrats promptly posted the interview at RomneyHousingPlan.com.
But Romney's record as Massachusetts Governor is far from the hands off approach he backs today. Official records from his time as Governor show Romney favored, and practiced, direct government intervention in the market place, in the service of his view that "fair and affordable housing should be a right."
Romney's foray into housing started early into his term in 2003, when he named a 24-member task force to make housing more affordable. On the task force's creation, Romney said, "In order to maintain long-term economic growth and prosperity, we must attract and retain talented people to live and work in Massachusetts, said Romney. "To do that, we must not only work harder, but we need to work smarter, to increase the state's housing supply and have it affordable to those across a broad range of incomes."
Later, in June of 2003, Romney awarded $75 million worth of grants, loans and low-income housing tax credits to build and fix up 1,631 rental homes in 21 communities across the Massachusetts.
In August of 2003, Romney announced that $17.6 million in tax credits and grants had been awarded for the construction of 550 new rental apartments. Finally, in December of that year Romney announced another housing initiative, including $58.9 million in grants, loans and tax credits for 893 new rental homes in 16 communities.
In 2004 the Romney administration was less ambitious, allocating only $65 million for new housing projects. In June, Romney announced that 62.4 million in state resources would be used to create and preserve 1,058 rental homes in 14 cities and towns. Kerry Healey, Mitt Romney's Lt. Governor commented "Many of these grants and low-interest loans will be used to finance new housing for low- and moderate-income families in areas across the state where there is supportive infrastructure and access to various modes of public transportation."
In October of 2004, Romney awarded $1.4 million to build 30 new homes for Cape Cod. Of the 30 homes, 18 were built for households earning 80 percent or less of the area median income. While five were set aside for families earning 120 percent or less of the area median income. The remaining seven were sold at market value.
In November of 2004, Romney awarded $2.25 million to create homes exclusively for low and moderate income residents of Boston, Northampton, Harwich and Lowell. Romney commented at the time "As we work to attract businesses and create new jobs in the Commonwealth, it is essential that we also provide more housing for our working families. These awards not only help to create new housing, but they help to make cities and towns in Massachusetts more desirable places in which to work and live."
Romney's passion for the issue extended to declaring housing a basic right. In March 2004 address to a meeting of the Massachusetts Association of Community Development Corporations Romney said "Fair and affordable housing should be a right, not a privilege."
2005 was Romney's biggest spending year on housing during his tenure as Governor. The Romney administration invested more than $300 million in Massachusetts housing that fiscal year.
In January of 2005 Romney announced $45 million for the creation and preservation of 564 new rental homes in 13 cities across the state. Later in that year in April, Lt. Governor Kerry Healey awarded $2.31 million renovate dilapidated, vacant or underutilized properties into rental housing for low- and moderate-income families.
Later that year in June, Healey also announced that $75 million in state and federal tax credits, grants and loans would be awarded for the building of new rental developments in 12 cities. The housing initiative was proposed to create 820 new apartments of which 665 were to be for low- and moderate-income individuals and families.
In July of that year, Romney's Lt. Governor again released funds for housing by signing a $200 million bond bill to fund two state housing programs. 200 million was split equally among the Affordable Housing Trust Fund an Housing Stabilization Fund. The Romney administration boasted that "Both programs have supported the production or rehabilitation of over 10,000 rental and homeownership units during the past decade for Massachusetts families."
The Romney administration documents, found online, but no longer available on Mass.gov, are only available to June of 2006. As of that date, no Romney housing initiatives had been launched in 2006.