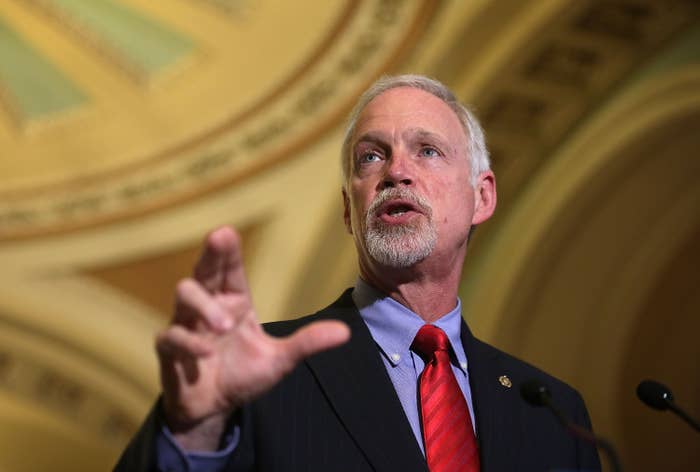 Republican Sen. Ron Johnson from Wisconsin, when asked on Monday about Donald Trump's refusal to "unequivocally condemn" former Ku Klux Klan leader David Duke and white supremacists, said he prays every night that the Republican presidential nominee "is a person of integrity, intelligence, ideas, and courage."
Johnson, who is facing a tough re-election fight in Wisconsin said on the Charlie Sykes Show when asked about Trump's comments on Sunday that he is "happy" to condemn white supremacist groups.
"Yes, I'm happy to do so. Charlie, I tell ya, I go to bed every night praying that our nominee is a person of integrity, intelligence, ideas, and courage," Johnson said. "This nation hungers for someone who can lead this nation, not be divisive."
"I'm praying," Johnson said. "That's all I can say, Charlie. I'm praying for such a leader."
Asked about Nebraska Republican Sen. Ben Sasse saying he won't vote for Donald Trump, Johnson again said he was praying.
"I'm praying, let's see how the process plays out," he said. "Charlie, we have such enormous problems facing this nation. I don't like demagoguery on any side of the political spectrum and we have it across the political spectrum."
"You do it with facts and figures, not demagoguery, there's way too much demagoguery occurring throughout politics for decades," he said of fixing the country's problems. "It's got to come to an end. We've got to start acknowledging these problems. You've got to get serious about fixing them and unfortunately these elections are just, it's just depressing, it's depressing to see how this is devolving."